Get Out On The Water
With so much to do in Cabo it can be a daunting task to figure out how to best spend your time and money. There are beautiful resorts with amazingly fun activities for kids and adults alike, world class restaurants abound, shopping…oh my goodness there is golf, off roading, ziplines, and honestly if you can think of it, you can do it in Cabo! But remember this, Cabo is surrounded by water and due to the unique topography of the area; you can only see much of the beauty of Cabo and the surrounding area from the water. So, what are you waiting for…GET OUT ON THE WATER!
Ok, you have decided that you definitely want to get on the water, now you have to decide how to do that.  There are so many different ways to go out on the water in Cabo. Do you want to go sports fishing, snorkeling / diving, or a dinner cruise maybe a sunset cruise, go to different beaches for swimming/playing, or cruising the coastlines enjoying the spectacular natural beauty of the land and beautiful resorts and homes…. which you cannot see from land. Are you with a bachelorette or bachelor party group and just want to go out for a fun filled trip on the water? There are excursions that specialize in these occasions.   There is something for everyone out on the water in Cabo.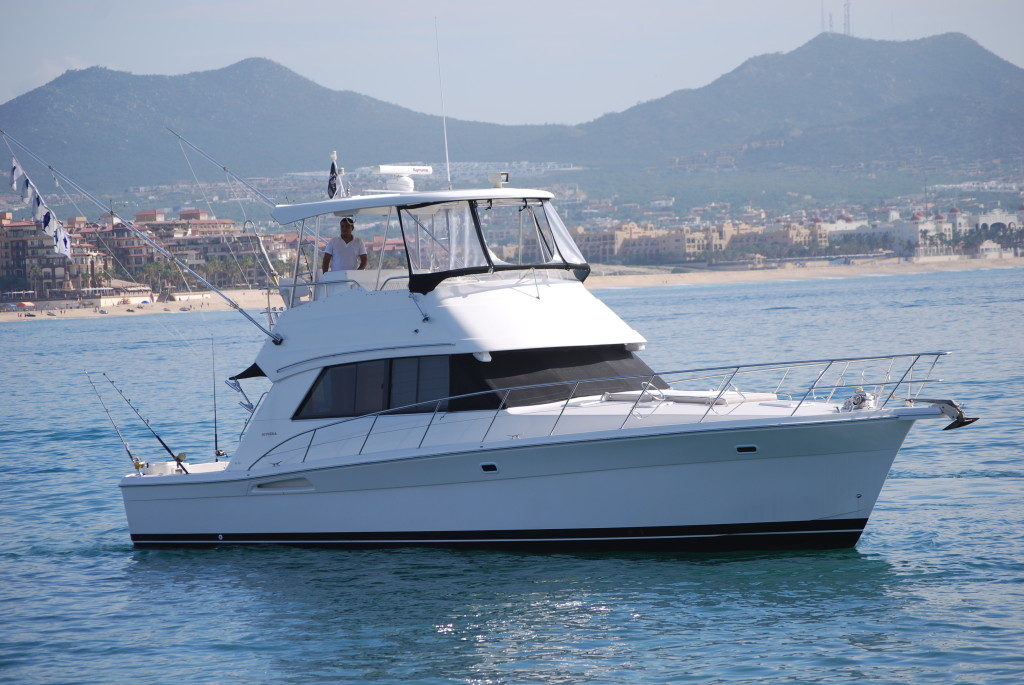 Imagine leaving the Cabo San Lucas marina on a beautiful yacht…crystal clear water, stunning views all around, the gorgeous city of Cabo San Lucas in sight, the unknown just around the next cliff…. there is just nothing that will capture the beauty and excitement of Cabo more than being out on the water.
Regardless of what you want to do on the water or the size of your group, Cabo San Lucas Fishing and Tours can ensure your on the water experience will first of all be safe and will meet your expectations in everyway. They offer fishing, snorkel, whale watching, lands end, bachelor and bachelorette party cruises and private Cabo sunset dinner cruises. These can be  "bare minimum" cruises / excursions where you bring your own food and refreshments all the way up to providing a private chef, premium liquors, DJs or even a band and will customize your experience to your specifications. Blue Sky offers a variety of yacht sizes for your choosing that can accommodate up to 24 guests. Each vessel has an experienced captain and crew and provides photography of your trip, which they will gladly send to you so you can share with friends or family. Blue Sky will even hire a drone to capture your charter on video! Now that's cool!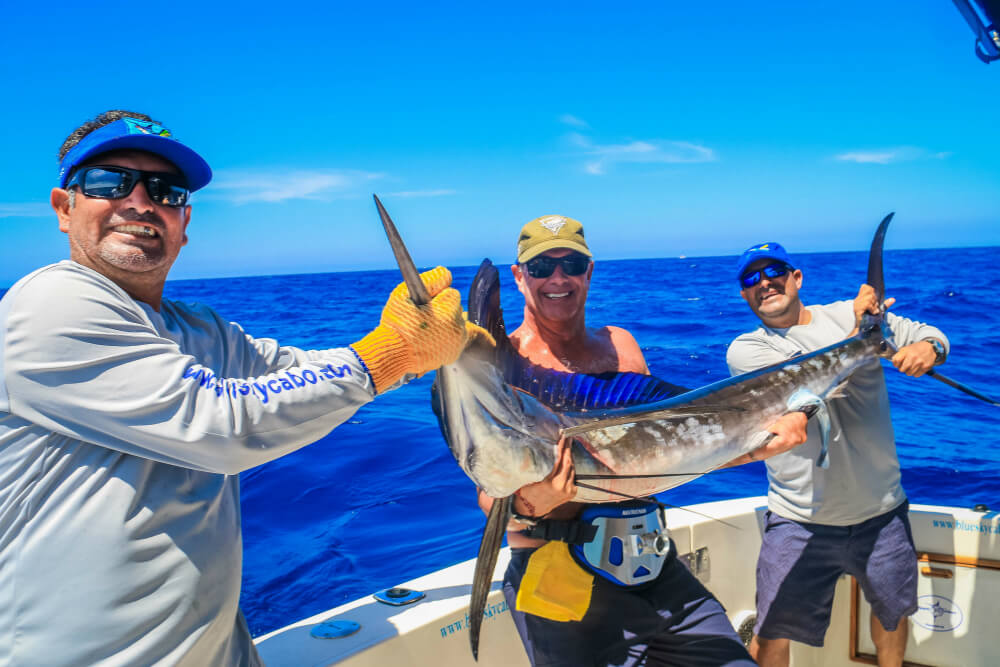 Cabo San Lucas is a world destination for marlin fishing and anglers come from all over the world for the experience of landing a huge marlin. Due to the geographic location and the resulting confluences of ocean currents off the coast of Cabo San Lucas, fishing is good year round in the waters surrounding Cabo and the different varieties of fish caught in the area is second to none.  So if fishing is your desire, Cabo San Lucas Fishing and Tours has a variety of tournament ready fishing yachts with professional fishing gear and tackle. From first time fishermen to experienced anglers, they have the gear / tackle needed. Each yacht is staffed with a highly skilled, experienced captain and crew that will hunt down fish with the use of binoculars and sonar equipment. Deep Sea Fishing trips can be from just a few hours to overnight excursions, depending on what it is you and your family or group want.  There is absolutely nothing that will get your heart pounding like the excitement of catching a marlin or sailfish. Check out these deep sea fishing reviews: " This owner cares…. has the best crew in Cabo. We caught marlin, sailfish and saw at least 50 whales…GREAT TRIP". "The charter was above and beyond everyone's expectations. I fish all over the world and this experience ranks with some of the best". "Our experience was deemed outstanding by everyone on board. The entire crew is genuinely interested in ensuring we had an unforgettable trip. They are truly fantastic hosts.   " Awesome!! Went fishing with 2 teenage daughters. We are novices and the captain and crew took great care in helping…we had a great time and caught a 200# stripped marlin…cannot recommend this boat and crew enough"   " BEST FISHING EVER" …"our catch included striped marlins, dorado, tuna and barracuda …the photography by the crew is top drawer"
Again, Blue Sky Cabo offers all types of customized sunset cruises…just tell Jim what you want and he can make it happen.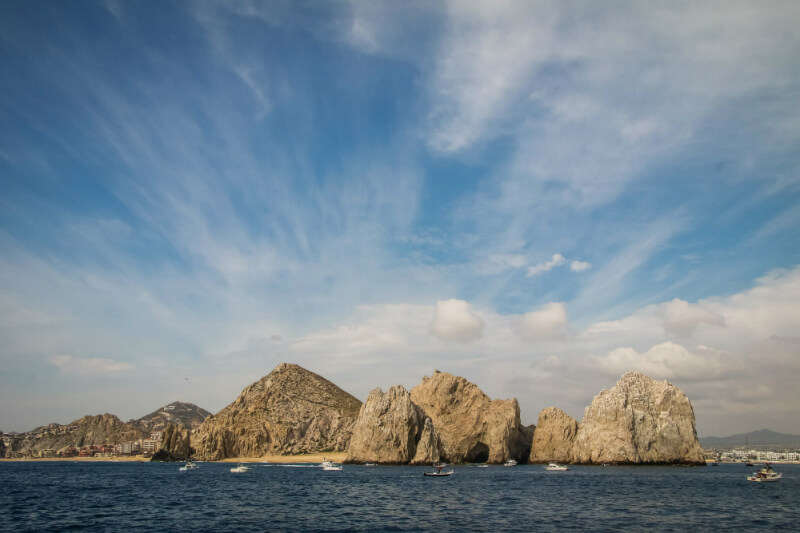 Check out this review: " OMG…. if you want to have the most beautiful view of the sunset in Los Cabos with family and friends on a beautiful boat and with amazing people who are welcoming and make you feel like family, I highly recommend Blue Sky Cabo. We had 6 children on board and felt comfortable knowing the experienced captain and crew were there to keep us safe and entertained. Great memories!! Highly suggest everyone take the sunset tour". "We went out for a sunset cruise with family and a few other people with Blue Sky…. our 2 sons got to sit in captains chair to drive the boat a bit…. I caught a Dorado and the crew cleaned it for me to take back and cook. The crew was professional and willing to do anything to make the experience memorable". Need I say more? Just remember, Blue Sky can customize your sunset cruise to meet your every need…. from 2 people on a romantic sunset cruise to large corporate groups up to 24, Blue Sky has different size yachts from 31 feet to 60 feet.
So, you have a group that wants to "party down". …Blue Sky offers charters for your group that will anchor just off the coast at Medano Beach in front of the Mango Deck…. one of the most "happening" places in all of Cabo San Lucas. They have an amazing stereo system and even a dance pole! You talking about a fantastic bachelor or bachelorette party …WOW! As with all Blue Sky Cabo charters these can be customized to meet your expectations.
Now, get out on the beautiful waters surrounding Cabo San Lucas with Blue Sky and experience Cabo like you have never seen.
Written by,
CBHINE
Cabo San Lucas Fishing & Tour is the top around the world!…
Contact Us for asking us why!