As I'm sitting here in the hills overlooking Cabo San Lucas, I feel so fortunate to be here to enjoy one of the most beautiful places on earth. Three cruise ships are in port; the ocean and the sky are blue, and it's a very quiet and tranquil day. Reminds me of the Allman's Brothers song, Blue Sky………
You're my blue sky, you're my sunny day.
Lord, you know it makes me high when you turn your love my way,
Turn your love my way, yeah.
Cabo San Lucas has been and continues to be one of the world's greatest sport fishing destinations, and with good reason. Known as the "Marlin Capital of the World", the waters off Los Cabos, Mexico benefit from the merging of two major bodies of water – the Pacific Ocean and the Sea of Cortez. Nutrient rich waters driven by offshore currents lure a variety of game fish to the area providing year-round action on species like marlin, sailfish, swordfish, dorado, tuna and wahoo. Throw in outstanding surf and fly-fishing and you have the makings of a true sport-fishing enthusiast's dream destination. In this blog, you'll find all types of information that will help make your Los Cabos fishing trip a success. Check out www.cabosanlucasfishing.com for the latest fishing reports; get fishing tips… even learn what you'll need to do to take your fish home from Mexico. Use the navigation panel on the top to browse through this section of the site or to return to the main Los Cabos activities page. If you're looking for quick answers click on the box on the left and "ask Jim a question" he will respond to you in real time.
Cabo San Lucas lays claim to nearly 70 world record fish including catches in the all-tackle, line-class and fly-fishing categories. Not many places offer up the chance at setting a new world record, but Los Cabos can… and does.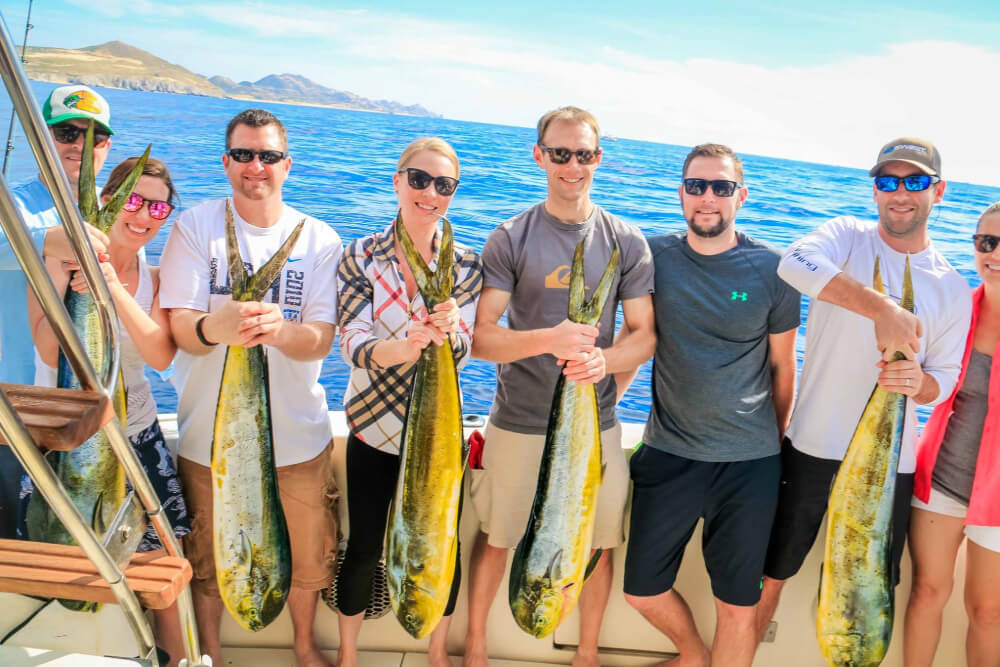 And if sailing is the cup of tea, then look into the beautiful Blue Sky Cabo Fishing Charter and yachts. I have taken this cruise many times and it never disappoints. We usually arrive around 5:00 in the afternoon on Wednesday's and enjoy conversation with the captain and crew. They are all so kind and do everything they can to make your adventure wonderful.  The yacht is very nice, clean and comfortable. There are many places to choose to sit, but I usually end up on the top deck. This excursion is more private than the others. I love the views, as we are heading out to sea and the landmarks. (I usually bring wine with me, which is a perk on this sunset cruise.) It feels magical looking back at the beautiful city of Cabo and the marina. The captain is very informative by letting us know where to look for sea life.  He also points out the sites and explains the history.  My last trip out, he was giving us details on the whales and knew exactly where they would be jumping so we could keep an eye out. Along with the beautiful yacht and incredible sights one of the crew is always snapping pictures.  It's so nice to have these memories to take home. I have also seen a little fishing off the side while sailing.  Coming back to the marina when the sun is setting we usually have a special visitor. Poncho, an elephant sea lion, comes on board.  He knows that he will get a special treat of fresh fish.  It is all super cool!  If you are looking for something a little bit more personal and intimate, check out Blue Sky Cabo Sunset Fishing excursions. I'm pretty sure you will enjoy the price.  Just a review on Trip Advisor will seal the deal.
Called the Aquarium of the World, the Sea of Cortez all by itself, attracts 40% of the international marine life. The variety along with strict catch and release indications leads to wonderful fishing for first timers and professionals.
Many charter boat companies operate out of the marina at Cabo San Lucas, with great selections of boats.  Blue Sky Cabo (rated number 1 on Trip Advisor) has 5 incredible choices; Blue Marlin which is a 31 foot Intrepid Express, Blue Star a 32 foot Luhrs, Blue Water 35 foot Rivera, Blue Sky which is a nice 43 foot Riviera and the Blue Sea is magnificent 60 foot Bertram.  Jim is easy to work with and will do his best to make you trip the best of a lifetime. Also on the website you can chose a lovely Airbnb to top off your experience and look into the best airport transportation in the Cabo San Lucas area (Browns Transportation).
In short, VIP service is what Cabo San Lucas Fishing provides when booking their luxury fishing yacht, catering to all clients wanting a unique fishing charter experience in Cabo San Lucas.
If you have any questions, or would like to book a Cabo Fishing Charter – call Jim to discuss your bucket list Cabo Fishing Charter trip. I will end here with a verse from my favorite poem about the sea.
Sailing on the Peaceful Sea

By Vivian Edwards

————————————————————–

As I set sail on the sea

I feel the peace come over me

The worries of life just fade away

I am the best that I can be

Time to daydream about all my wishes

The hopes within my heart
Written by,
CBHINE
Let's sail and go into the deep sea, we can catch fish and enjoy the day!
Book our attractive fishing package for the best experience. Contact Us for full information.