It is your choice….world class sports fishing or world class golf. No other location on earth offers both like Cabo San Lucas and the surrounding area. All of the great golf course architects of the modern era of golf have designed golf courses in Cabo with many of these associated with world class resorts. As for fishing, Cabo San Lucas has great fishing year round and is host to some of the largest and most lucrative ($$$$) fishing tournaments in the world. So, if you love fishing or golfing, or better yet, love both, Cabo San Lucas has it all for the taking!
Let's first talk fishing: Due to the geographic location of Cabo San Lucas, fishing is great year round. There are 18 species of fish that are plentiful in the waters surrounding Cabo San Lucas ranging in size for 10-20 pound snapper to 1,500 pound black marlins. With a cool down in temperatures the fall of the year fishing in Cabo is at its best. The Los Cabo Billfish tournament was just completed… this is 3 day fishing tournament.
Take a look at some of the catches and $$$ awarded:
Day one: Carpe Diem's team landed a 467 pound blue marlin and won the Day One Marlin Jackpot earning a whopping $81,750!!
Team Estella Dell Norte landed a 66-pound yellowfin tuna to win the Largest Tuna Daily Jackpot earning $10,762!
Team El Animal landed a 37.2-pound wahoo winning the Wahoo Daily Jackpot earning $ 13,837!
Day two: Team Second Wind landed a 363 pound black marlin and won Day Two Marlin Jackpot and 2nd place in the Overall Marlin Jackpot for a grand total of $119,550!
Team Game Time landed a 31.3-pound yellow fin tuna to win the Largest Tuna Daily Jackpot earning $10,762!
Team Mjolnir landed a 43.9-pound wahoo and won day 2 of the Wahoo Daily Jackpot.
Day three: Team Mjolnir landed a 70.3 pound yellow fin tuna to win largest Tuna Daily Jackpot…. for the 3 days this team won $ 19,987 for their tuna catches! Team Chupacabra landed a 499 blue marlin! Team Yahoo won the Daily Release Points with 12-stripped marlin released and was awarded $ 18,420!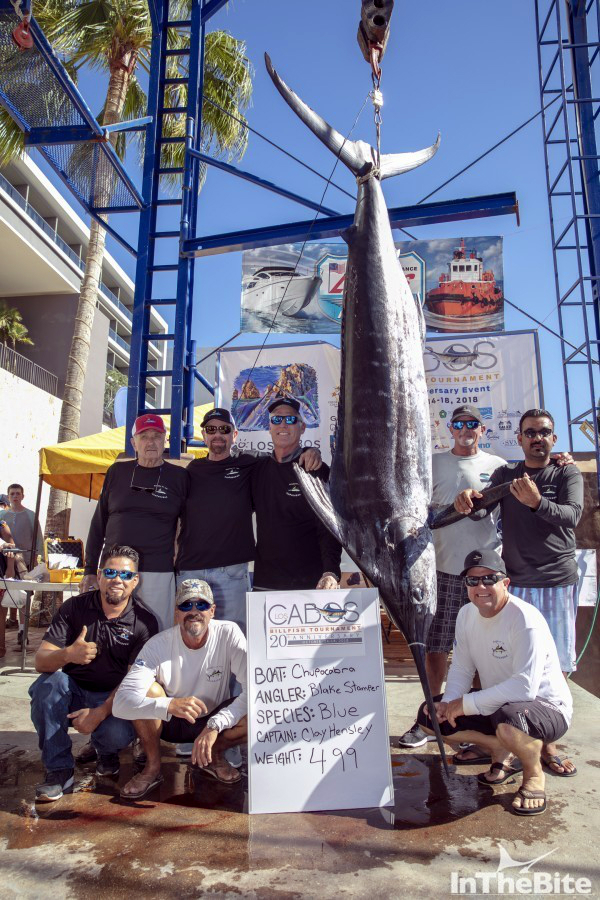 For the 3-day tournament 150 billfish were caught! Winners were determined by a point system. The overall winner of the Los Cabo Billfish Tournament was Team Sea Angel earning $113,500 and an invitation to complete in the 2019 Offshore World Championship in Costa Rica. The second place was awarded to team Chupacabra …they also won the overall Blue Marlin Jackpot and pocketed $195,950, the largest payout of the tournament.  Team El Suertudo won 3rd place and won $57,780. All together over $642,300 in cash was awarded plus prizes. WOW.
Now, does that not make you want to go out sport fishing in Cabo San Lucas! As you can see there are plenty of large fish to be caught in the waters surrounding Cabo San Lucas. Blue Sky Cabo has 4 fully equipped fishing yachts with gear and tackle and experienced captains and crews to meet your fishing needs in Cabo San Lucas.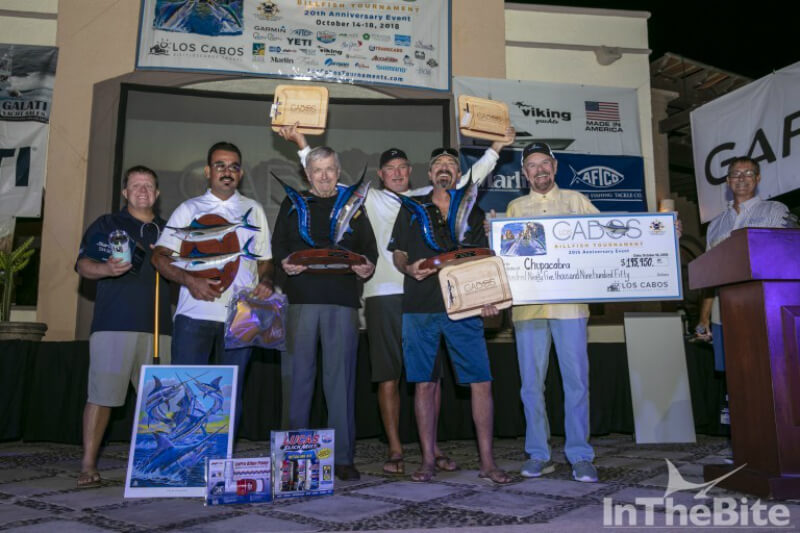 I highly recommend you go online to Trip Advisor to see the many outstanding reviews from people that have thoroughly enjoyed their fishing experience with Blue Sky Cabo.
Now lets talk golf. Golf Digest ranks Los Cabo as one of the world's great golfing destinations. Cabo is ranked as the #2 golfing destination for US golfers. With courses designed by Jack Nicklaus, The Dye Corporation, Greg Norman, Robert Trent Jones, Davis Love III, Tom Weiskopf, Tom Fazio and Tiger Woods there is little reason to doubt these lofty rankings for golf in Los Cabo. Dozens of courses dot the landscape of Los Cabo with most combining desert and costal terrain into the design. Courses like Cabo del Sol, Cabo Real, Palmilla, Club Capestre, Puerto Los Cabo and Quivira Los Cabo Golf Club offer world-class layouts and world-class amenities.
The majority of the golf courses are located in what is known as the Tourist Corridor, the area between San Jose Del Cabo and Cabo San Lucas and borders the Sea of Cortez. Just north of San Jose Del Cabo is where you will find one of the newer courses in Los Cabo, Puerto Los Cabo Country Club…a Jack Nicklaus and Greg Norman design. Go around the Baja to the Pacific side and you will find Diamante Dunes Course and El Cardonal, a new championship course designed by Tiger Woods.
Here is information and locations of some of the courses in Los Cabo:
Cabo Real: Designed by Robert Trent Jones is located just off Hwy 1 in the tourist corridor just north of Cabo San Lucas. Is 6,988 yards from the tips, par 72 with a rating of 74.1. Green fees range from $115 in the off-season and $225 in peak season. Registered guests at Cabo Real are given priority on tee times.
Cabo Del Sol – Desert Course: A Tom Weiskopf design that stretches to 7,100 yard par 72. There are a variety of tees making it comfortable for all levels of golfers. The design takes full advantage of the natural river washes and has subtle changes in elevation and dramatic bunkering. Fees range from $99 in summer months to $220 in peak season.
Guests of the resort properties in the Cabo Del Sol community receive preferred tee times at discounted rates
Ocean Course: This is a Jack Nicklaus design that covers over a mile of coastline on the Sea of Cortez. The course is praised for having the three finest finishing holes in golf. Green fees range from $145 in the off-season to $295 in peak season…
The rates at Cabo Del Sol include 18 holes of golf, a shared cart, practice balls and bottled water. Rental clubs are available.
Puerto Los Cabo Golf Club: This course has dual designers, Jack Nicklaus and Greg Norman and showcases the differences in course design differences of both. The par 73 course ranges from 5,319 to 7,461 yards depending on the tees you select. Fees range from $110 to $195 depending on the season and tee time.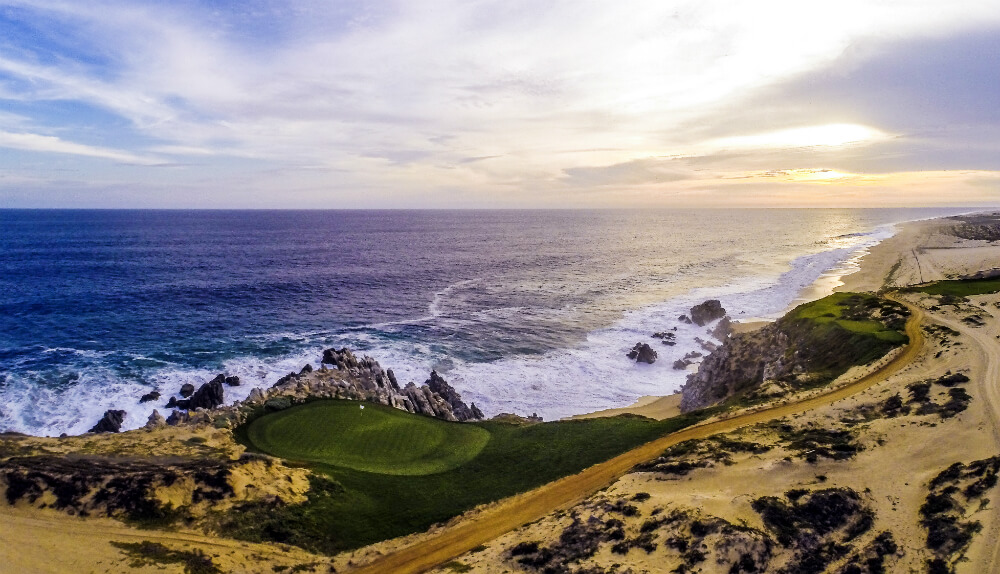 Diamante Cabo San Lucas: There are 2 courses here for you enjoyment, Diamante Dunes designed by Davis Love III and the newer El Cordonal designed by Tiger Woods. Both courses are on the Pacific and offer breathtaking views. The practice facility spans 14 acres that includes 2 driving ranges and a secluded short game area for chipping and putting. Call 877-795-8727 (USA) or 624-173-9400 (Los Cabo) for rates and tee times.
These are just a few of the world-class golf destinations in Los Cabo. Most resorts have a golf concierge or you can contact Cabo Luxury Resort Concierge for information and to reserve tee times.
So, sports fishing or golfing or better yet, both in the Cabo San Lucas area assures you of FUN FUN FUN !!
Written by,
CBHINE
Cabo's fishing & golfing is top of the World, come and compare. Take the challenge!!
Contact Us to know how you can come.