There is so much to do in Cabo San Lucas!!  Incredible resorts with all kinds of activities, beautiful beaches, world class shopping and dining, water sports of all kinds, majestic natural beauty abounds, big game fishing, tequila tastings and on and on.  To be honest the variety of fun things to enjoy in Cabo is only limited by your imagination.
While enjoying your fun / sun filled days in Cabo San Lucas, be sure to save time and energy to enjoy the equally thrilling and varied nightlife in Cabo. There is truly something for everyone to enjoy, from quiet jazz venues, salsa dancing, live rock bands to pulsating dance clubs with world class DJs.
As Alicia Bridges belted out in one of her hit songs, "I love the nightlife, I got to boogie, I want some action I want to live".  So let's get this party started!! Now you are wondering where to go and what to do…. Not to worry. If you are staying at one of the resorts in Cabo San Lucas, start by talking to the concierge at the resort. They are highly trained and knowledgeable at giving you the latest information on restaurants/clubs/bars/nightclubs in Cabo. Many of the resorts have clubs and live entertainment for you to enjoy as well.
For those who want to venture out here are some suggestions. Good thing is you do not have to wait till nighttime…there is live music, dancing and various entertainment starting in the afternoon hours. Here are some suggestions: Happy Endings…located just a few steps from the Cabo Marina; this place offers music to keep the beat going all day and night. This lively place has been rated " Best Bar in Cabo", offers free Wi-Fi and free phone calls to up to 60 countries…are you kidding me?? Happy Endings is also the Beer Pong Headquarters for the Baja Division if the Mexican Beer Pong League and has 14 regulation beer pong tables ready at any time after 10:00 am. So, what are you waiting for!!
Cabo Blue Bar…. located right next door to Happy Endings, this is a little outdoor palapa bar. As the sun sinks this little bar gets very lively with nightly beverage and food specials and live music. The music varies according to the time of day but a good rock band plays six nights a week. Wednesday is Karaoke Night so come and join in the fun.
Tiki Bar…overlooking the beautiful Cabo Marina, it has been featured on the Travel Channel's hit show Diners, Drive-ins and Dives so you know the food is fantastic and it is a FUN place to be. Food specialties include your typical Mexican fare but Tiki Bar specializes in fresh sushi (you have to try the Thai Mango Roll and Heavy Nagasaki).
The Nowhere Bar…set on the bustling Cabo Marina since 1994, the Nowhere Bar has withstood the test of time in Cabo San Lucas. With an outdoor setting this place serves up a party atmosphere in a smaller more intimate dining and music experience than larger clubs.
Bar Esquina…located in the lovely boutique Hotel Bahia, this bar is more reminiscent of bars and restaurants in metropolitan cities but located just one block north of world famous Medano Beach.  Elegant with indoor and outdoor seating, Bar Esquina has world-class cuisine and nightly live music. Each night, Tuesday thru Saturday there is different music including Latin, Jazz, Acoustic and Kimbara.
The Rooftop…. this is a rooftop bar at The Cape, a Thompson Hotel located on the beach and has breathtaking views of Land's End and the Sea of Cortez. The Roof is the only rooftop, open-air terrace bar in Cabo San Lucas and features fire pits, full
dinner menu and nightly acoustic live music.  Be sure to try their mescal-infused passion fruit cocktail…YUM!
Jungle Bar…located in the Plaza Mariachis, this is local popular hangout for late night crowds wanting to avoid the larger clubs with a disco / DJ music scene. So if you are looking for a late night bar with great live music and for no need to change from your jeans, t-shirts and shorts, come hang at the Jungle Bar.
Latitude 22…a piano bar within Roadhouse Bar located in Highway1 just north of Cabo San Lucas. Piano man Peter Bacon is an exceptional talent and his play lists hit all types of music from rock and roll to Tex-Mex and his music and style is FUN.  The crowd his typically older and more laid back…. 45 and older and dancing is encouraged.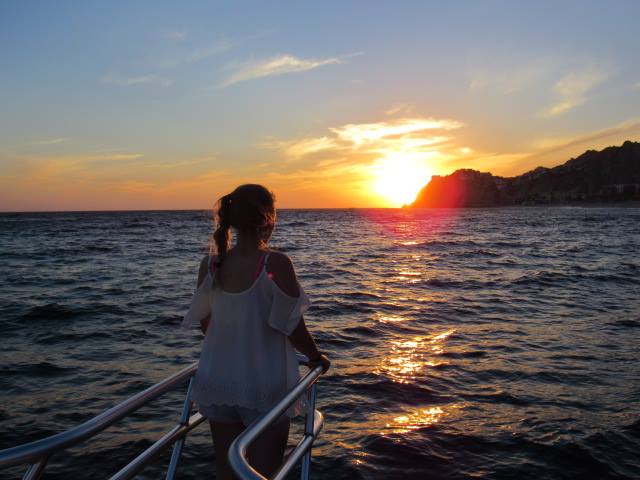 Now, if you are interested in partying for hours on end with a lot of energy and large enthusiastic crowds then try these 3 clubs:
Mandala…. located downtown Cabo San Lucas (next door to Squid Roe), this super charged club has no cover charge, but does card…(18 is legal) so bring a photo ID. Do not be fooled by its small appearance if you come early. Mandala has the unique ability to expand its space depending on the crowd and has multiple levels.  DJs are blasting tunes non-stop and believe me this place rocks! There are booths and tables and bottle service is available.
El Squid Roe…located downtown Cabo San Lucas you cannot miss this stand alone building as you come in to town…. across the street from the Hard Rock Café. Squid Roe is one of the more popular dance clubs in Cabo and has 3 floors of non-stop pulsating energy. This place is not for the prudish and faint of heart but for those who want continuous music and a genuine party atmosphere.
Cabo Wabo Cantina…. this is generally regarded as one of Mexico's most impressive live music venues. Owned by former Van Halen singer Sammy Hagar, this legendary club has numerous bars and music stages. Come in the afternoon to enjoy the cozy patio bar and enjoy their world famous Cabo Wabo Tequila  (be sure to try the WaboRita) while listening to live music. At night this place really cranks up the party featuring live bands from literally all over the world. There is also an incredible gift shop featuring everything and anything " CABO WAB0".
Regardless of your entertainment and music preference, Cabo San Lucas has something for everyone.  ENJOY !!
Written By,
CBHINE
Let's have fun together. Contact Us for full details.