When I think about my time in Cabo San Lucas, I think about relaxing, getting away from all the stress and strain of life. Then I visualize a wonderful spa experience.  A treatment beside the ocean or in another tranquil setting, what could be more relaxing?  As Tim McGraw sings "That's why God Made Mexico", let's pack! Ole`
The Desert Spa
The Desert Spa at Villa del Arco is located on the edge of the Baja Peninsula on the Sea of Cortez. The beauty of Desert Spa's location enhances the wonderful experience. Very large at 31,000 square feet, includes a fitness center, full service beauty salon and many packages to chose from. Desert Spa's specializes in a line of desert inspired products including extracts from agave, lime, melon and vanilla.  Their claim is that the fruit and herb extracts native to the Baja area are made to restore and have nutritive elements for a better spa experience.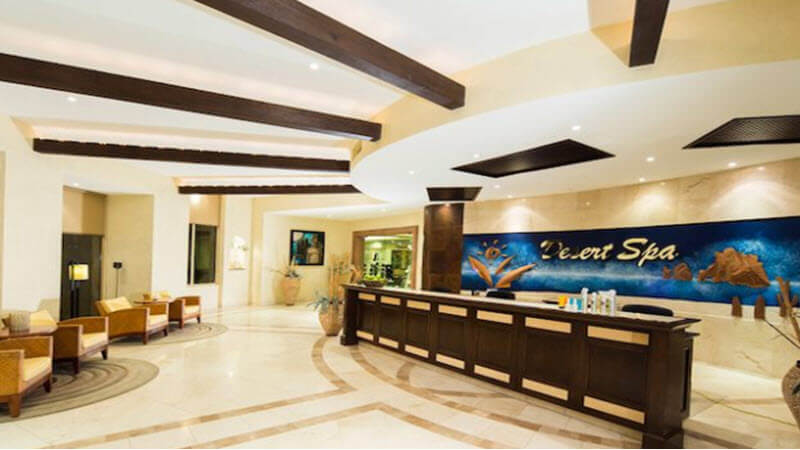 The spa has a hacienda style with contemporary amenities for both men and women. Included are a large Jacuzzi, cold pool, pressure showers, steam room and sauna. Full service beauty salon and separate men's and women's relaxation rooms.
Reviews are very good (Trip Advisor).  Comments were favorable regarding the excellent amenities and a top-notch staff. Also several commented that the facials were excellent.
Address: Villa del Arco Beach Resort & Spa, Cabo San Lucas Phone +52 624 145 7202
Solmar Spa Collection
Located at the beautiful Playa Grande Resort in Cabo San Lucas, the Solmar Spa is lovely. This spa is over looking the Pacific Ocean and sets between the rocks at Land's End.  I love this property, because it is so close to the marina in Cabo San Lucas you can easily walk down to the marina. The views are just amazing. The spa offers many treatments with ancient healing using plant oils, sea salts and many other wonderful organic ingredients.  The salt water Jacuzzi caught my eye and the reviews are dynamite!  A full service spa with beach treatments as well as inside spa makes this a great option.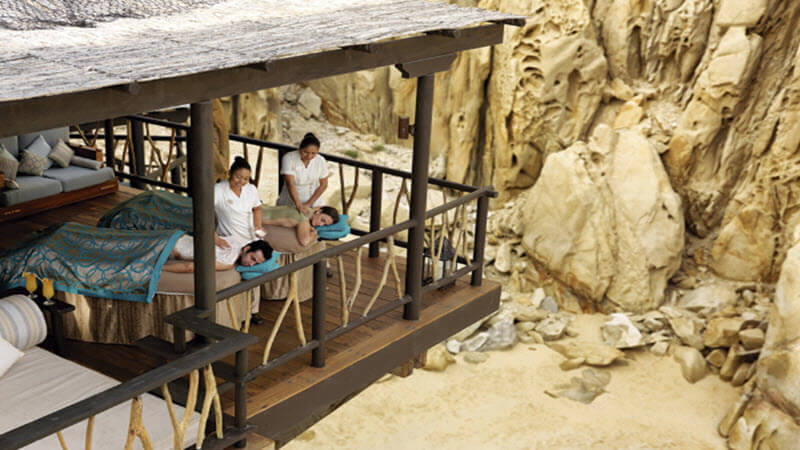 Address: Camino de la Barranca, Cabo San Lucas Phone +52 624 143 4432
Somma Wine Spa
After living in California for years, this one caught my eye! This is the only spa in Los Cabos that incorporates the benefits of wine (vino therapy) in their therapies.  The Baja California area is known for their grapes, which enhance the quality due to the breezes from the sea and climate. They also use bamboo, olive and other items to make their services extra special.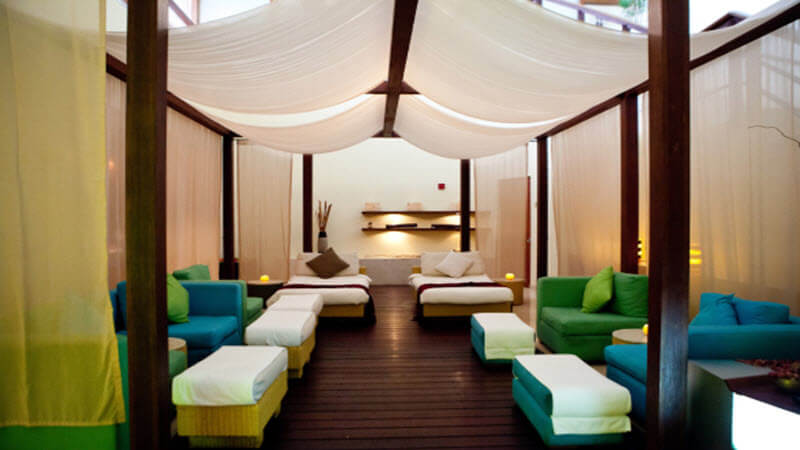 After a busy day of fun in Cabo, I think this is where I'm going next!  One trip advisor reviewer said, "I have been visiting this spa every year for 14 years. Every visit is as great as the last. The facility is clean, the front desk is helpful and accommodating. Locker rooms/showers/steam rooms are well maintained. I have visited aestheticians and massage therapists and they have been beyond accommodating! My vacation is not complete without an appointment or two at Solmar Spa. I look forward to it every year!"
Address: Grand Fiesta Americana, Los Cabo Phone +52 624 145 6200
Spa at Sunset Beach
The Armonia Spa located at Pueblo Bonito Sunset Beach is highly rated. One of its claims to fame was being voted the #1 Top Hotel Spa in Mexico by Travel and Leisure. Also, named among the top 10 Hotels and Spas in Mexico, Central and South America by Travel and Leisure. Conde Nest named the spa as one of the top 20 Best Spas in Mexico and Central America! WOW!! The spa specializes in self-renewal relaxation.  The spa offers European body treatments; massage therapies, salon services, locker rooms, wet areas and their special Cabo San Lucas spa packages. One review wrote: "I had the most relaxing time at the spa! I had the Armonia massage and spa pedicure with Paraffin. Brenda was my masseuse at the spa and provided one of the best massages I've ever had. She asked what pressure and aromatic oils I wanted for my massage.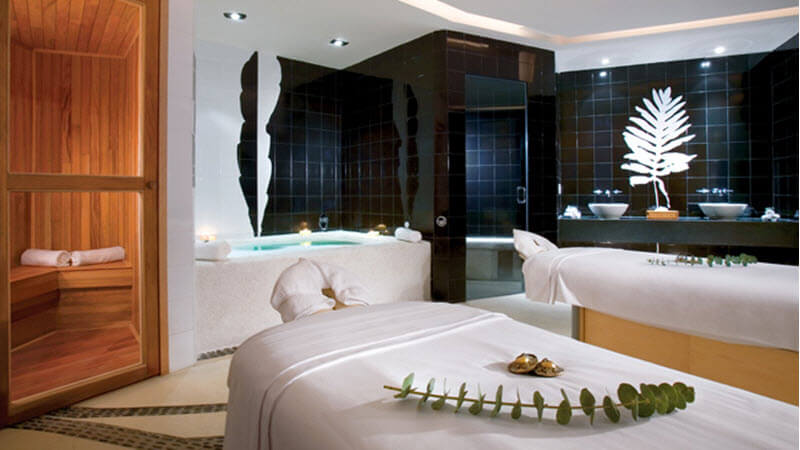 I wanted a near deep tissue massage and chose the chamomile scent. She applied the right amount of pressure throughout the entire massage. At the end, she provided me with water and a snack. Domi completed my spa pedicure. She had a pleasant personality. She made sure I was comfortable throughout the service. She asked me what color I wanted and if I wanted only filing or a trim on my nails. She offered beverages and was very attentive to warming water or getting anything I needed. I would definitely go back to Brenda and Domi for spa services again as they provided wonderful service! Lastly, I will mention that all the other staff and the facilities are amazing at Sunset. This is one of the best spas I have ever visited."
Address: Pueblo Bonito Sunset Beach, Predio Paraiso Escondido, Los Cabo Phone +01152 624 142 9999
Eden's Spa
Described by a reviewer as a "Diamond in the rough", Eden's Spa is highly rated.  A smaller spa in Cabo where you can rest and be cared for by highly skilled professionals. The atmosphere is defined as a state of wellness and balance experience, very relaxing and an escape for the body and mind. The most popular treatment is the sports massage, which is 60 minutes long for $40. Explained as "A therapeutic treatment, employing deep kneading and circular movement on specific muscle groups or areas prior to or after strenuous physical activity."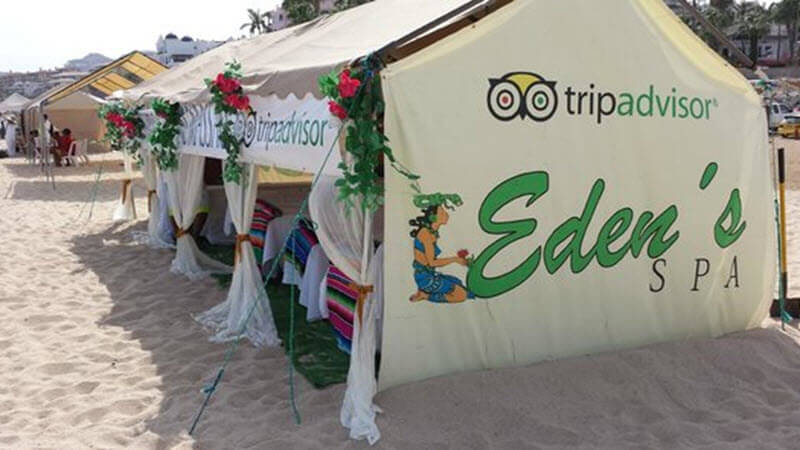 Address: Calle Camino Real, Col. El Medano, Cabo San Lucas Phone +52 624 143 0311
The Spa at Pedregal
The spa is located in the center of The Resort at Pedregal, which is just beautiful.  The spa treatments are centered on a clean sense of incorporating organic items. All of the treatments are reserved for the individual lunar phase and the combined effect and pull the moon represents. The aquatic treatments are designed to bring back memories of a mother's womb, so you will feel the nurturing state of relaxation.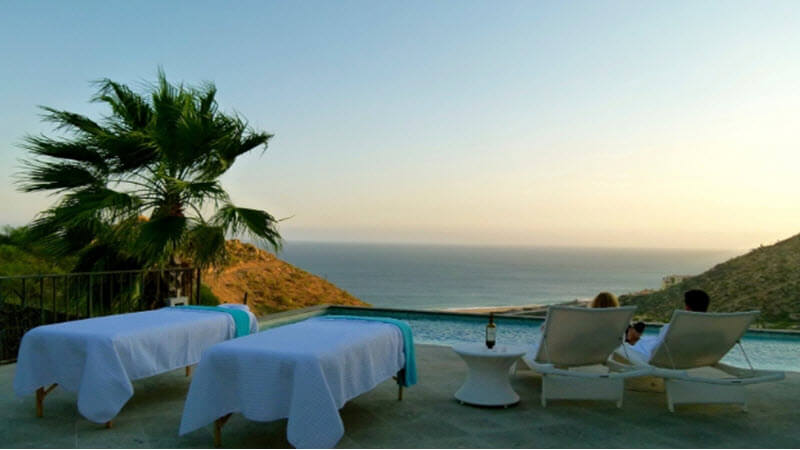 Reviews are very high, one which says, "We had an overnight flight and an early connection the day before so my family and I were exhausted and needed a day of 'refreshment' We were new visitors to Cabo and Mexico so the spa was a bit difficult to find at first, but once we did, we fell in love! My son and his girlfriend had a couple's massage; my wife and daughter had back/neck massages and the Spa Mani/Pedi, and my son and I had massages as well. I liked that my son and I could use the fitness center and pool while the others started their sessions. We had an excellent fresh lunch at the café after – with a beautiful view! We fell in love with Cabo and the Spa at Pedregal!" Wow, sounds like heaven to me!!
Address: Camino de la Barranca, Cabo San Lucas Phone +52 624 143 4432
Keep in mind that the resorts usually have their own spa's and welcome you even if you are not staying with them.  I have also found the rates for spa treatments in Cabo are much less than in the states. Just more fun and relaxation to be had, in the world of Cabo San Lucas.  Enjoy!
Written by,
CBHINE
We are waiting for you. Contact Us for to know details about our packages.