I have always wanted to spend more than one week of vacation in Cabo San Lucas, Mexico, and my dream came true.  We left the Gulf of Mexico on a Saturday and three weeks later returned home. In those three weeks I went on two deep-sea fishing tours, two sunsets cruises, visited many wonderful restaurants and tequila bars. And needless to say, it was not enough!
Flying in is always exciting. Our flights were great and Brown Transportation picked us up in a pristine new Cadillac Escalade, with cooler on board and cool air. After 15 years, we have this down, Brown is the Best!  First stop was the grocery store since we were staying at the Blue Sky Cabo's home in the hills over looking the beautiful Cabo marina!  The balcony looks west and the sunsets were incredible.  This home belonging to Jim (the owner) and is available for rent. It sets in a lovely gated neighborhood with other beautiful homes and also pool. Three master bedrooms on two levels plus a laundry and great room. The house also comes with a car, which saved us tons of money on taxis. The kitchen was loaded with all the essentials.  We were very comfortable and everyone in the neighborhood was very nice and helpful. Especially Hector, who manned the front gate!  He would help us with anything we needed and was great with directions!
The deep-sea fishing excursions with Blue Sky Cabo were just incredible. We met our captain at the marina at 6 am. The yacht, Blue Star (32 ft.) was very clean and beautiful, very much maintained to a high standard. Captain Julio was great, meeting us with a cup of coffee and a tour of the yacht. We were served breakfast and were offered a full bar on our tour. First mates Mario and Ulysses made us feel very comfortable as we headed out to sea. We turned left going out to the Sea of Cortez with a beautiful view of the sunrise!  The whales were jumping and splashing, and dolphins were swimming, it was stunning.  Photography was also included and the pictures are awesome! The sea life always amazes me!  I also enjoyed the scenery from the ocean looking back to the land. All in all, it was a great time, one that I will remember for years to come.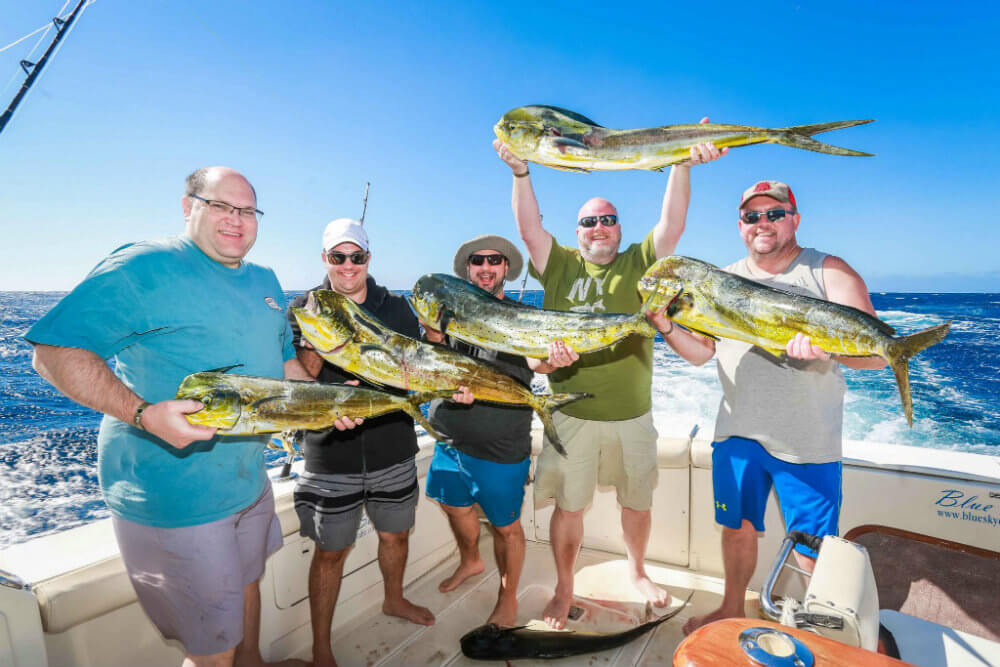 A really great deal that Blue Sky offers is after booking a deep sea fishing trip, you automatically get a 2 hour sunset cruise out to lands end. Our trip was on the incredibly beautiful Blue Sky 60 foot yacht.  Words cannot describe the beauty of this yacht. We met at the marina at 4:30 pm and headed out at 5:00 pm.  It was a picture perfect trip, with breath taking views and ocean life. The sun was setting and again, it's just an incredible site.  Coming into the marina, Pancho, a giant lion sea jumps on board for a treat of live fish!  It's just a remarkable site and so much fun. I was able to pat Pancho on his head and he just seemed to love it. When Pancho left us, several other seals jumped on too. Over the top cool!!!
While out to sea, we were able to see the gray humpback whales and they're babies breaching. I've seen this for the last 15 years in Cabo, but every time it seems like the first. In case you don't know the whales migrate over 6000 miles to the Cabo San Lucas area to have their young. One of the best places to seem them is in the waters out of Cabo. The whales love the warm shallow waters of the Sea of Cortez and the Pacific surrounding Cabo.
Gray whales are a very interesting breed of whale. They travel ten to twelve thousand miles round trip each year from their feeding grounds in the Artic Sea. They are also very lively, curious and enjoy swimming in close to boats. They are known for the spy hopping and breaching.
Whale watching is big business in Cabo San Lucas. While it can be done on the fishing trips, you can also take a yacht out on Blue Sky Cabo just to whale watch. The family and a camera and have the time of your life! There's nothing that will take your breath away faster than seeing a massive 20-ton whale jumping for the sky, singing and flopping splashing in the beautiful waters of Cabo San Lucas.
One other little tip I am suggesting to you is tequila tasting. My son, husband and I enjoyed tasty premium tequila tasting at Mexico Real Tequila Boutique. They have a wide range of tequila that you will not see in the U.S. Their favorite was.
Raygoza 11 year aged extra anejo. My husband insists is the best tequila he has ever had….(and he has had a lot!). The owner name is Raymundo Sanchez and he is located in front of the Mar De Cortez Hotel. Great experience. Cel 624 127 7461
Get your engines running, down to Cabo San Lucas and get with Jim! Cabo San Lucas Fishing and Blue Sky Cabo!
Written by,
CBHINE
Fishing into deep sea is deam of many tourist if you are one of them book our fishing package. Contact Us for answer your questions.