Cabo San Lucas is not only beautiful but offers so much for entertainment. Folks come from all over the world to vacation in Cabo, but it may be best know for its outstanding fishing and charters. Sports' fishing is huge in Cabo San Lucas for all the reasons you might expect. Instead of heading way out to sea, in Cabo the fun starts just a short distance out where you have two seas mixing together, the Pacific Ocean and the beautiful Sea of Cortez. According to Quartz website, "Scientists say this narrow sea between the Mexican mainland and the Baja California peninsula is one of the most biologically diverse bodies of water on the planet, home to more than 900 species of fish, thousands of species of invertebrates, and a wide array of marine mammals like sea lions, dolphins and whales. The late French explorer Jacques Cousteau once called the Sea of Cortez the world aquarium."
Its beautiful waters even drew Ernest Hemingway to sample its abundance. Cabo used to be a remote coastal village but now an easily accessible fishing destination reachable for anyone wishing to get a taste of first-class angling. In many lands, fishing blue water means going out to sea 10, 20 or even 50 miles before lines go in. How does a ride of a couple of miles sound? That's about all you need to start fishing in open-ocean in the Cabo San Lucas area; many nice size marlin, dorado, sails and wahoo have been taken a short distance from shore.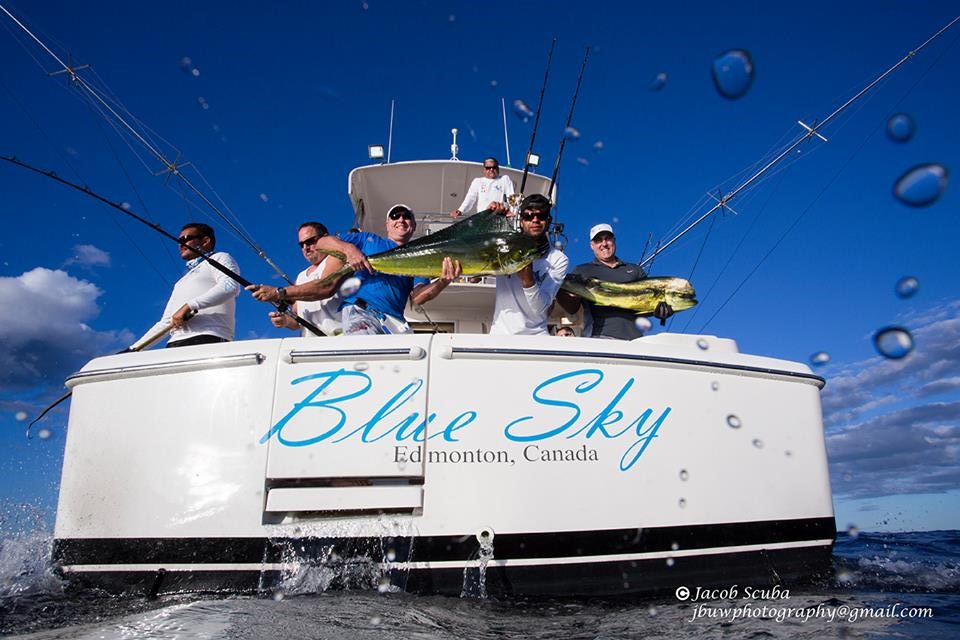 Billfish are very poplar in Los Cabos, topped by three species of marlin — blue marlin, black marlin and, the showpiece of Los Cabos fishing, striped marlin. Mainly, billfish run between 220 and 550 pounds, with the ubiquitous opportunity to catch a grander marlin. Two other billfish species are also caught here: sailfish, pursued by fly fishing anglers looking for a kick, and broadbill swordfish, caught with deep-dropped dead baits. Marlin season runs from September through mid- March, with regular daily catches of six to twelve marlin during high season. February through April is ultimate time for dorado, where fish — weighing up to 75 pounds — populate the offshore waters by the thousands.
When planning your trip, you've got to know the best time for the fishing seasons. Fall and winter are outstanding for exceptional action. Grisly sword billed samplings of black and blue marlin run July through October, with average catches of six to fifteen marlin a day during high season. July through November, dorado can be readily caught. Yellowfin tuna strike hard September through January, and wahoo and sailfish round out the mix with the warm waters of the summer and fall delivering the best outcomes. Bottom fishing for jacks, grouper, roosterfish and snapper can take place at all times of the year; and hammerheads, threshers and makos can be found in the winter and spring. Charter yachts in Los Cabos can run the scope from 17-foot panga boat skiffs to 75- foot sport fishing yachts, and the price is sometimes negotiable
Los Cabos holds many fishing tournaments that stretch the skill and knowledge of captains and anglers from around the world, who also compete for some sobering prizes. Six great tournaments hit the Los Cabos shores, with the Stars & Stripes Tournament in June, Los Cabos Billfish Tournament in October, Cabo Tuna Jackpot in November and the three local Bisbee's circuit tournaments, the Bisbee's East Cape, Los Cabos Offshore and the Bisbee's Black & Blue. The final one takes place in late October; and payments can exceed $3.5 million. Enjoy stopping by the dockside with a cocktail and watch the weigh-ins as the opposing boats return to the marina.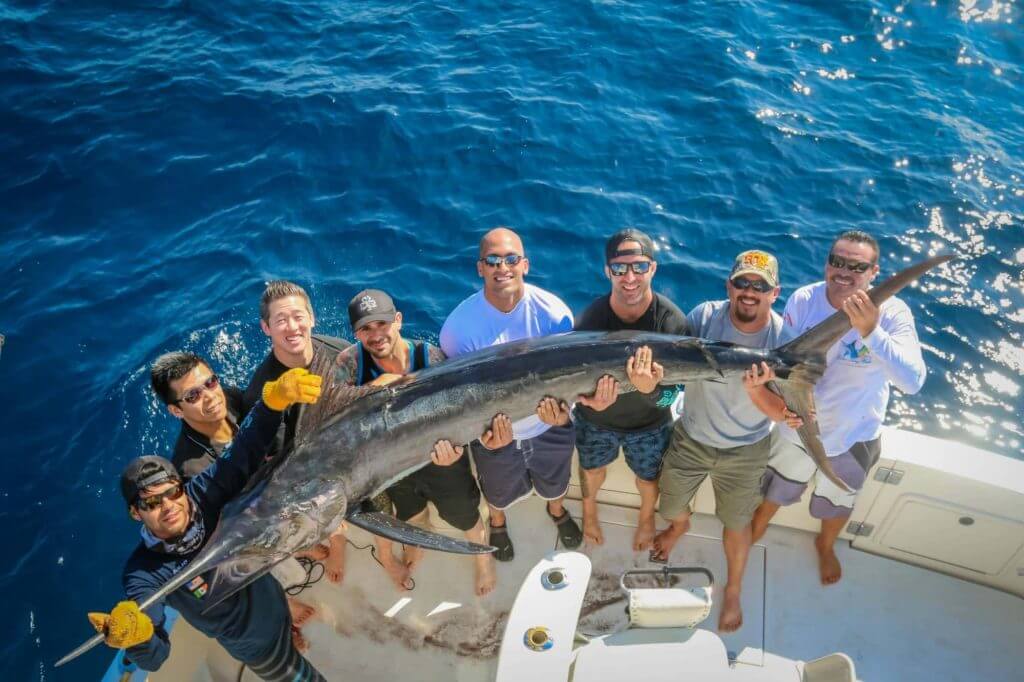 Blue Sky Cabo has several charters to choose from.  The 31 foot Blue Marlin, Blue Star, 32 foot Luhrs, the Blue Water, 35 Foot Riviera, the Blue Sky 43 Foo Rivera and the Blue Sea 60 foot Bertram.  Some of the best reviews (and there are many) say it perfectly:
"Striped marlin madness"
"The Charter was above and beyond everyone's expectations. I fish all over the world and that experience ranks up there with some of the best of them. The crew was a blast and fishing was out of the world. Bachelor was super happy and get his first Marlin. I believe everyone got his or her first marlin and that was my first striped marlin. Just one more billfish to go for and I have caught them all. I'm glad you guys helped me do that. Was a fun captain and crew to saw the least. Thank you so much."
"Blue Sky Cabo Fishing is an experience of a lifetime!"
"I feel I would be doing a disservice to anyone looking to book a fishing trip in Cabo by not writing this review! I had extremely high expectations going into this trip and I have been following them for a while on Facebook. Everyone on board deemed our experience outstanding. The entire crew is genuinely interested in ensuring we had an unforgettable trip. They are truly fantastic hosts. We quickly caught some monsters and the crew prepared some delicious sashimi with our fresh catch. The whales were very active that day as they took us for a close up view. It was spectacular! We also saw lots of porpoises and were treated by a visit from the famous Pancho the Sea Lion who boarded the boat at the end for some fresh fish. Not only did we enjoy the hospitality and experience while on the beautiful well equipped boat, they took professional photographs for us to re-live the great memories for years to come! Book in advance to ensure availability for the best charter in Cabo!"
Best of The Best!!"
"My wife and I went to Cabo for our 15 year anniversary in August of this year and decided to take a fishing trip but also just wanted to cruise and hang out. Stumbled upon Blue Sky on TA and it looked like a perfect fit for what we wanted to do, fish, snorkel etc. Boy did we hit the jackpot! Ended up booking the trip with the owner of the boat directly (Jim), this was nice compared to many other trips fishing in Cabo when I never knew who I was dealing with. The boat is beautiful and Captain Juan and the boys were top notch, no attitudes, no cold shoulder, just there to make sure you have a good time and have everything you need. They actually were a blast and made our day even though the weather was bad and we had to come in early. To top off the day we caught a nice Marlin and several Dorado. We go to Cabo every year or so and as long as these guys are around I will never set foot on another boat. Read the reviews, they really are that good."
"Fishing in Cabo"
"Our fishing trips on Blue Sky and Blue Star Cabo were absolutely amazing. Captains and crew did a first rate job with everything from seamanship to fishing knowledge to a high level of customer service. We caught 5 Marlin and 1 tuna on our first trip and 6 Dorado, 1 Marlin and 1 Tuna on our second trip. We also had am incredible whale watching experience on the second trip and got amazing pictures. Jim K. Runs a first class operation, which is very clearly the best in the Cabo marina. Thanks again to the entire Blue Sky team for 2 great days on the water."
If you are reading this, then you are most likely a sport-fishing enthusiast; you will find that there is outstanding fishing in the Cabo San Lucas area all year round. If you haven't been fishing, then its time. It's a trip of a lifetime…… let's go! Happy fishing!
Written By,
CBHINE
Are you interested to have a fun day? Contact Us for details.