The meeting of the Sea of Cortez and the Pacific Ocean is remarkably beautiful! As I know you have heard that these waters are thought to be the greatest fishing destination and the most ideal conditions for wonderful sport fishing in the world. No wonder Cabo San Lucas is the most popular fishing spot worldwide.
There is no doubt in my mind that Cabo San Lucas Fishing and Tours is the best fishing charter in Cabo San Lucas.  With the many options it's hard to decide what to do first! We travel to Cabo each year, going on our 14th year and still the main event is going out to sea with the best charter in Cabo!
Cabo San Lucas Fishing offers many tours, such as deep-sea fishing (4 beautiful yachts), snorkeling, sunset tours, private or with groups, whale watching, visiting the Arch, a beautiful fun visit by Pancho, the sea lion! And many more options. The crew is just wonderful. Extremely knowledgeable and professional! Also tours to Chileno Bay, Pelican Rock and Santa Maria are available. The crew can tailor your event just specifically to what you want to do as well!!! Some requests have been made for bachelorette or bachelor parties near the famous Mongo Deck and I might mention the incredible stereo system!! The dance pole has been pulled out a few times!!! All with the magic touch of the very friendly English speaking crew on board!
If you are interested in marling fishing, as most fisherman are, then Cabo San Lucas is the world destination for you! The captain and crew hunt marlin with sonar and binoculars, looking for the great catch. With this excursion, you will get a complimentary sunset cruise held midweek to top the cake!!!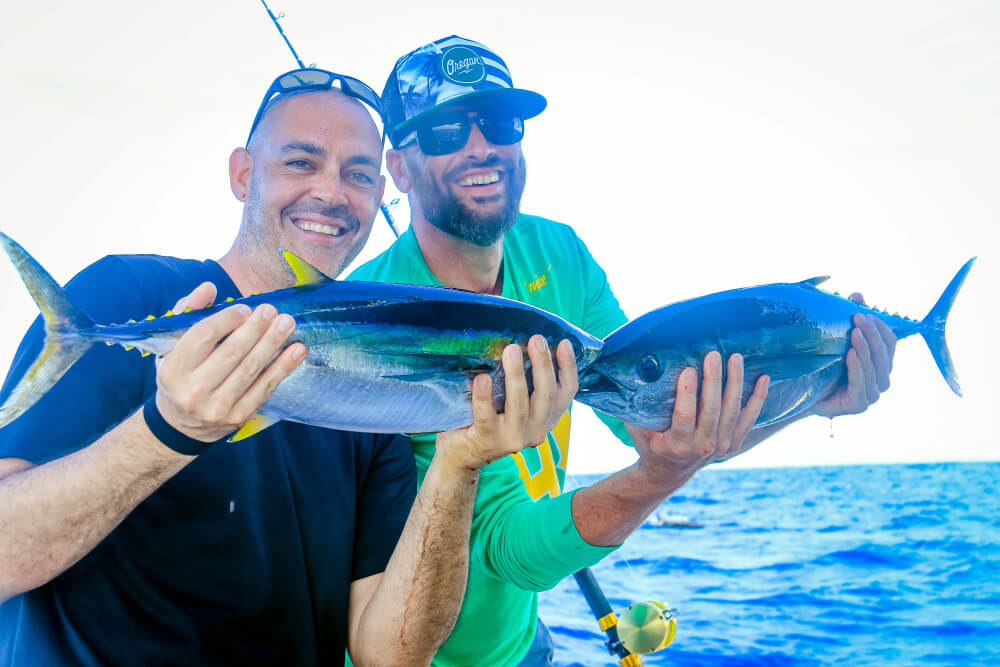 I especially enjoy the free photographer! Lots of memories are captured of our vacation with beautiful backgrounds of the arch and Lovers Beach! Also the private chef has such delicious options to enhance the experience too! All very reasonable priced.
And the perks just keep on coming… if you would like a drone to capture your charter, or a rock band or DJ then just let Jim know. Now that's what I call service!! All experiences top my expectations! The yachts are just beautiful, clean and also comfortable.
Reviews on Trip Advisor are very good. Most deep-sea fishing charters in Cabo are actually brokers and do not own their own boats. Which sometimes makes for a less than perfect excursion. Not so with Cabo San Lucas Fishing! I really think this makes a huge difference in the success of the excursion. I found that Jim and his captains all work very hard to make sure things run perfectly and that their customers are always happy and want to return for another trip when in Cabo.  I definitely do!
Repeat business is great and I tell everyone I know how much I enjoy my excursions with Cabo San Lucas Fishing!
Trip Advisor Review
"I've already recommended this charter to everyone I know! Fished 2 days with my husband on the 32 foot Blue Star. 6 hours each trip. Day 1: we both caught a striped marlin! Plus 5 mahi mahi and 1 mackerel. Day 2: 2 more striped marlin! Plus 4 mahi mahi. Captain Julio and first mate Wilson were the best! They both spoke great English, were nice, friendly and liked to joke around like us. It felt like we were fishing with our buddies. The owner, Jim, called before and after the trip to make sure everything went well. Jim and Julio recommended a restaurant on the marina, Alexander's, to cook our fresh catch. Alexander's cooked the fish for our lunch 5 different ways. It was delicious! The booking process was easy, fast and secure. The bathroom on the boat was large and very clean. I recommend wearing the prescription seasickness patch behind your ear; the seas are rough in Cabo! Also, try not be too hung-over when you go, it wouldn't be as enjoyable with a bad hangover. Plenty of cold beer on board though! The fishing also came with a complimentary sunset cruise on the 60-foot Blue Sea. That was also very nice! They had free margaritas and a photographer to take pictures. It was very relaxing. I can't wait to go back next October to fish!"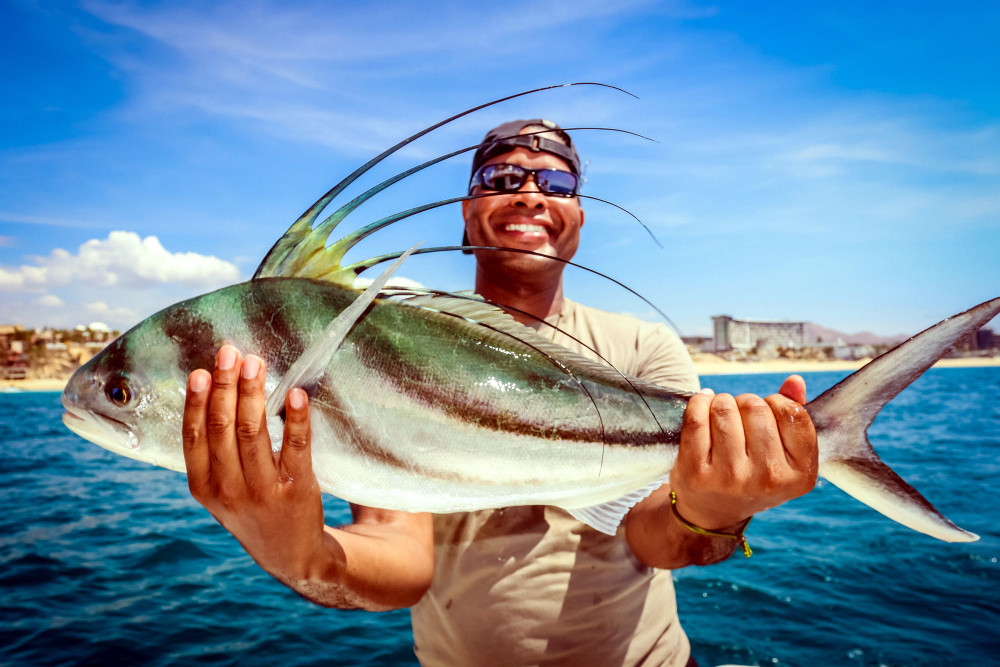 Here are some questions you may have before setting sail:
Question: What should I bring on board with me for the trip out to sea?
Answer: I always carry a hat, sun block, a camera, sunglasses and a beverage. If you are fishing, then you will need a fishing license.
Question: Can I take my catch home with me?
Answer: Depending on if you want to take it back with you, or if you want to CPR (catch, photo, release).  If you want to carry it back home then you will need to bring a cooler with ice, then possibly have it shipped home. Some restaurants will cook the catch for you. Just make plans for this before going out to sea.
Question: Will the crew speak English?
Answer: Yes, at least one person will speak English. No problem.
Question: How many can be on the boat?
Answer: Depending on the size of the boat, Jim has several options.
Question: Can I choose what kind of fish I want to catch?
Answer: Yes, the crew will help you pick out your species! It will depend on the season and what fish are biting.
Cabo San Lucas Fishing is located at the Cabo Marina. Dock F and Dock J. Hey what are you waiting for? Get in touch with Jim and have the time of your life, in Cabo San Lucas!
Written by,
CBHINE
We have best "Fishing Charter", make your fishing experience into the Next Level.
Contact Us for best fishing charter at Cabo.