The latest winter weather forecast is just in, " January will be colder than average with risk of widespread snowfall"…according to Axios, " the polar vortex may be splitting into three different pieces soon, bringing severe winter weather to parts of the US and Europe". I can think of no better place to escape this forecast, if even for a short time, than by heading to the sunny warm weather of Cabo San Lucas, Mexico!
And the best, most exhilarating way to spend your time in Cabo is by getting out on the beautiful Pacific / Sea of Cortez on a yacht charter with Cabo San Lucas Fishing and Tours!! (Also known as Blue Sky Cabo) Blue Sky can accommodate from 2 to 24 people on one of their 4 fully equipped yachts ranging in size from 31 to 60 feet. Cabo is totally surrounded by water…Pacific Ocean on the west and the Sea of Cortez on the east. Due the topography of Cabo you can only see the beauty of the Baha from the water.
The people at Blue Sky will customize your tour to exceed your expectations. From sunset cruises, bachelor / bachelorette parties, snorkeling, whale watching or sports fishing, Blue Sky will provide a water experience you will never forget and leave you longing for more!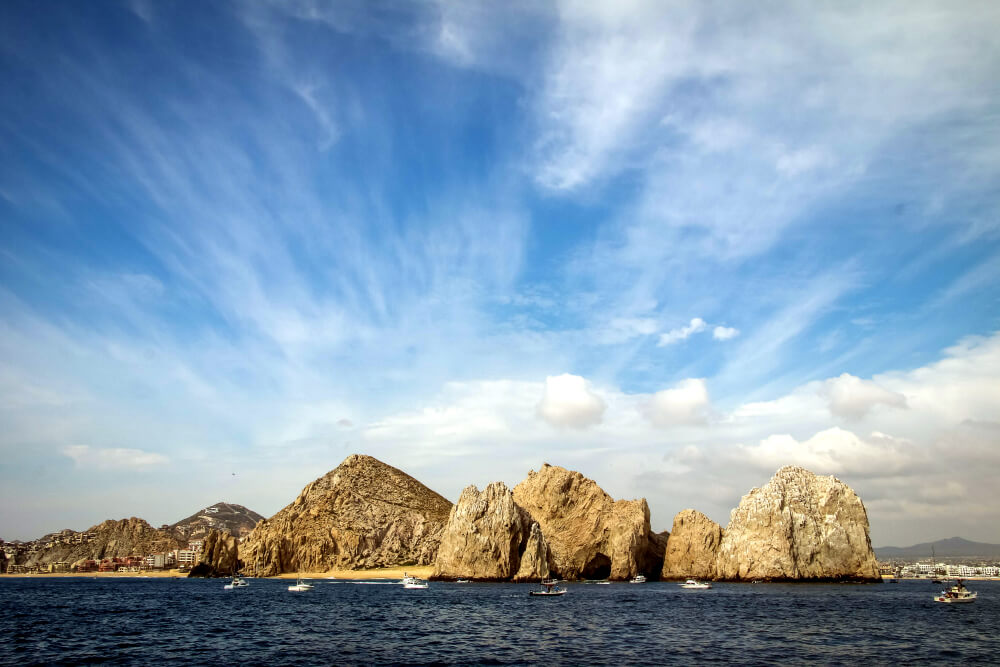 Most fishing charters in Cabo are booked thru brokers…they DO NOT own the yachts, don't hire the boat captains or crew and cannot guarantee you anything but the price and that is questionable …(Believe me…from my own experience you do not want to go thru a broker) Not so with Cabo San Lucas Fishing and Tours…book direct with the owner Jim who will ensure your experience is customized to meet your every need. (855-370-5907) All of his yachts are staffed with experienced captains and crew that speak English that will ensure your safety and go the "extra mile" to make your charter experience the best ever. Cabo San Lucas and Tours has over 2,000 excellent reviews on Trip Advisor and is the Number One rated tour operator in Cabo. (Go to Trip Advisor for reviews)
The waters surrounding the southern end of the Baha Peninsula are regarded as the world's best sport fishing destination…think about that…. THE BEST IN THE WORLD!! Due to the geographic location and the resulting confluences of ocean currents off the coast of Cabo, fishing is good year round. Cabo San Lucas is world destinations for marling fishing. Anglers come from all over the world for the experience of landing a trophy marlin. However, there is a wide range of fish species caught in the waters surrounding Cabo including tuna, dorado, wahoo, trigger fish, snapper and cabrilla to name just few of the over 40 species of fish caught in the waters surrounding Cabo. All of the Blue Sky Cabo yachts are fully equipped and tournament ready with professional fishing gear and tackle. Each yacht has an experienced captain and crew and will "hunt down the fish" using binoculars and the latest in sonar technology. These fishing charters can be from just a few hours to overnight excursions, depending on what your family or group wants…REMEMBER…. Blue Sky Cabo will customize your trip to meet your expectations…the crew will also document your fishing trip with photography, which will be sent to your e-mail free of charge! They can even capture your fishing trip with a drone if you would like…. what a wonderful way to share your experience with friends and family back home! I highly recommend you go to Trip Advisor and read the many outstanding reviews of fishing experiences on Blue Sky Cabo fishing charters.
One of the most pleasurable experiences on the yachts of Blue Sky Cabo is to take a sunset cruise. These are approximately 2 hour cruises that take you past lovers beach, the arch, pelican rock, lands end and heads west around the Pacific coast. The panoramic views are just spectacular! You can see the beauty of the incredible topography of Cabo San Lucas, beautiful resorts and draw dropping architecture of the homes located on the cliffs above the ocean. And let's not forget the sunset…WOW! So, bring the beverage of your liking and enjoy an incredibly casual but beautiful / fun on the water experience aboard a Blue Sky Cabo yacht! On the way back to the marina there is a good chance you will get a surprise visitor to the back of the yacht… Poncho The Sea Lion! As usual the crew will take wonderful photos and will send them to you free of charge. I have personally been on this sunset cruise many times and it never fails to be amazing! Check out these reviews: "OMG.if you want to have the most beautiful view of the sunset in Cabo with family and friends on a beautiful boat with amazing people who are welcoming and make you feel like family, I highly recommend Blue Sky Cabo." We went out for a sunset cruise with family and a few other people with Blue Sky…. our 2 sons got to sit in the captain's chair…. I caught a dorado and the crew cleaned it for to take back and cook. The crew was professional and willing to do anything to make the experience memorable"…need I say more? Just remember Blue Sky Cabo will customize your sunset cruise to meet your every need.People from around the world are escaping winter weather and heading to Cabo. I encourage you to plan ahead and get your on the water experience booked in advance with Cabo San Lucas and Tours. This will enable you to get the charter you desire, on the yacht you want and on the day you want. Call Jim and discuss with him what you have in mind…. he will help you customize the yacht charter of a lifetime!!
Written by,
CBHINE
Our English speaking crew will make your journey comfortable, enjoyable and most memorable in your life.
Contact Us for booking our best yacht service.