Weather you are planning a trip to Cabo or if you are already vacationing in Cabo, trying to determine how and where to spend your time can be a daunting task. There is just so much to see and so many fun and exciting activities in Cabo! However, to experience the natural, exhilarating beauty of Cabo one must get out on the water! Not only are the waters surrounding Cabo crystal clear they are filled with incredible marine life and landmarks that define Cabo both above and below the water. Famed marine biologist / underwater explorer Jacque Cousteau once proclaimed that the Sea of Cortez was "the world's aquarium". So, what are you waiting for…..get out there on the water and enjoy all that Cabo has to offer.
Blue Sky Cabo can certainly make your experience on the waters surrounding Cabo one to remember. With 4 yachts ranging in size from 32' to 60', Blue Sky Cabo can
accommodate up to 55 people for sunset cruises, snorkel charters, tours of El Arco, Pelican Rock, Chileno Bay, Santa Marino beach, whale watching and fishing charters. Each Blue Sky Cabo yacht is staffed with an experienced captain and staff to ensure your on the water experience is safe and exceeds your expectations. From providing professional photography to private chefs, Blue Sky Cabo can personalize your charter to meet your every need.
Here are some of the different on the water experiences Blue Sky Cabo has to offer:
Snorkeling Cruises:
For your safety and for the protection of the fragile marine life it is highly recommended that you use a professional snorkel tour operator like Blue Sky Cabo. Not only will they provide all the necessary snorkel gear that you will need, they also will provide instructions for beginners and experienced snorkelers alike. Water and weather conditions varies depending on the time of year you are in or planning to be in Cabo and the experienced staffs of the charter boats of Blue Sky Cabo can provide you with the information you need for making a good decision on when to go on a snorkeling cruise.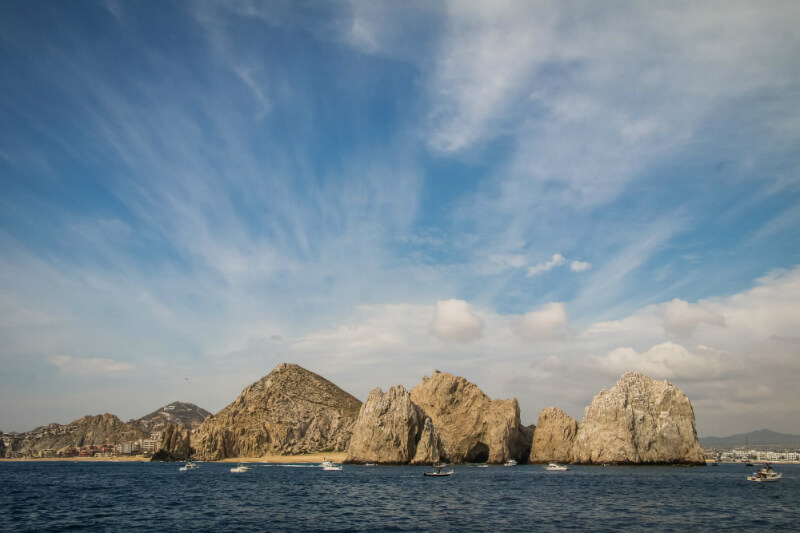 Blue Sky offers snorkeling trips to Pelican Rock and El Arco, which are both very close to the Cabo Marina and are part of the beautiful Lands End rock formations in the Cabo San Lucas Marine Reserve.  In these waters you will see plenty of marine life to include sea turtles, surgeonfish, parrotfish, angelfish, rays and sea lions.  Blue Sky Cabo also offers snorkeling trips to Santa Maria Beach and Chileno Bay, which are located north of Cabo San Lucas and are favorite snorkeling areas with the locals known for the great rock formations and abundance of marine life.
Blue Sky also offers "water toys" to include inflatable islands and lily pads for your floating enjoyment.
Snorkel cruises with Blue Sky Cabo can be "bare boat", where you bring your own food and refreshments or they can provide an open bar and lunch. Another option is to use a chef to prepare a gourmet dinner for your group. What ever your need or desire for snorkeling trips Bly Sky Cabo can customize your trip to meet all your needs.
Sunset Cruises:
Cabo San Lucas is famous for many things, not the least of which are sunset cruises.
Blue Sky offers sunset cruises from 90 minutes to 3 hours in duration that will stop at the arch for photos and a turn north up the Pacific coast of Cabo where you will enjoy spectacular sunsets and the gorgeous topography of the western Cabo landscape. The crews will even throw some lines in the water. My son caught a nice Dorado a few years back on one of the Blue Sky Cabo sunset cruises….a very cool bonus! Cruises normally set sail around 4:00pm. Blue Sky Cabo yachts are pristine and the captains and crews are not only very professional and informative but they are fun and will do all possible to ensure your cruise is pleasurable.  As with the snorkeling cruises you can go "bare boat" or customize your experience.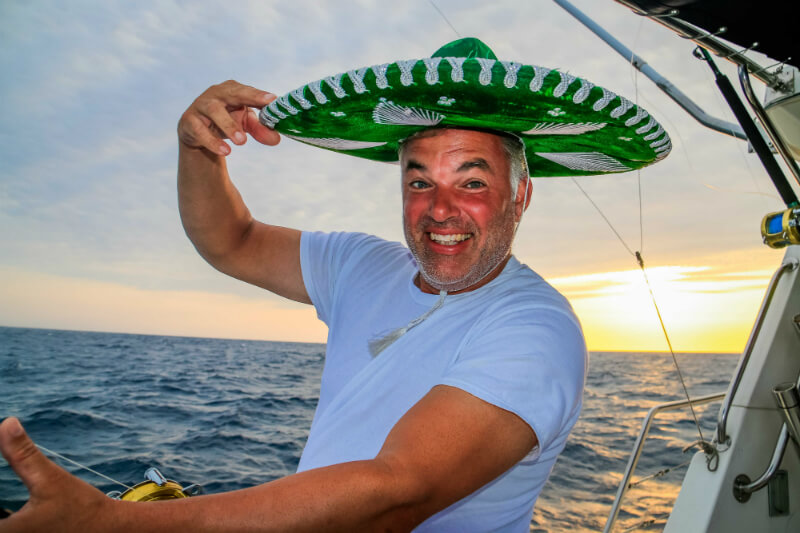 My husband and I have been coming to Cabo for 14 years and the sunset cruises on Blue Sky Cabo have always been a highlight of our trips. Here is a review from another satisfied Blue Sky customer: " My wife and I were on our honeymoon in
Cabo and took a sunset cruise on Blue Sky. It was awesome. We were taken to the famous Cabo rock formations and saw tons of seals hanging on the rocks and we saw whales. The very friendly staff treated us wonderfully. "
There are literally hundreds of great reviews available on Blue Sky Cabo sunset cruises on Trip Advisor.
It is suggested you book your sunset cruise in advance to ensure you get the experience you want on the day you want to go.
Cabo Fishing:
If you want to do something that is exciting beyond your expectations, that will get
your adrenalin pumping like nothing else, book a fishing charter with Blue Sky Cabo.
Cabo San Lucas is internationally known for its incredible fishing. Due to the geographic location of Cabo, scientists say the waters off the coast of Cabo is one of the most diverse bodies of water on earth and home to more than 900 species of fish and a wide variety of marine mammals like sea lions, dolphins and whales. Another benefit of the Cabo location is that there is good fishing year round
Blue Sky Cabo has 4 charter yachts and offer fishing trips from 3 hours to overnight trips. The yachts can accommodate up to 20 persons and like all the Blue Sky charters these fishing trips can be "bare boat" or customized to meet your every need.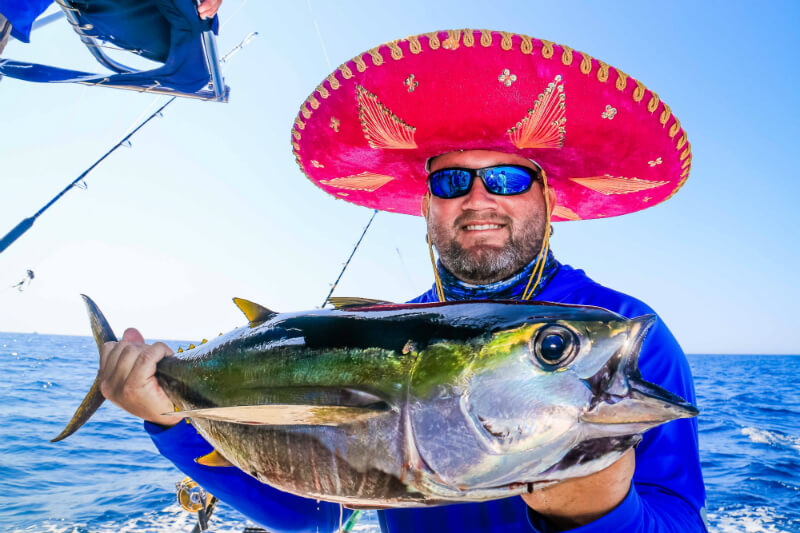 For the true sports fisherman, there are multiple fishing tournaments held throughout the year. Blue Sky offers fishing charters for all these tournaments.
All of the Blue Sky yachts are equipped with the most knowledgeable captains and crews and have professional fishing gear and tackle.
Blue Sky Cabo is well equipped to meet any of your needs for getting out on the water surrounding Cabo Sab Lucas.
Written by,
CBHINE
Enjoy your vacation with Cabo beach cruise & fishing ….. Contact Us for a best DEAL!