All of us who love fishing have dreamed of catching that big marlin! Just the thought of walking onto the Cabo San Lucas Marina and boarding the Blue Sky Cabo gives me chill bumps! As we go out to sea, sitting in the chair of the charter boat taking in the sights and thinking of the great day ahead is exciting. Will we catch a BIG one? Will the battle be thrilling? Maybe just maybe we will!
Fishing in the emerald waters of Cabo San Lucas is very exciting. Cabo San Lucas is known for its world famous fishing and for the great sizes of fish in the Sea of Cortez and the Pacific Ocean. Many international fishermen love this experience, but you don't have to be pro fisherman to enjoy it, because of the wonderful crew with Blue Sky Cabo it is made easy and fun!
Cabo San Lucas fishing experience is known as some of the best fishing in the world. The marlin is the "catch" of all catches and there are more being caught in the Cabo San Lucas area than anywhere else in the world. As a matter of fact the success rate is at a nice 70-100%, says the locals that also comes with great sea life and welcoming tour guides.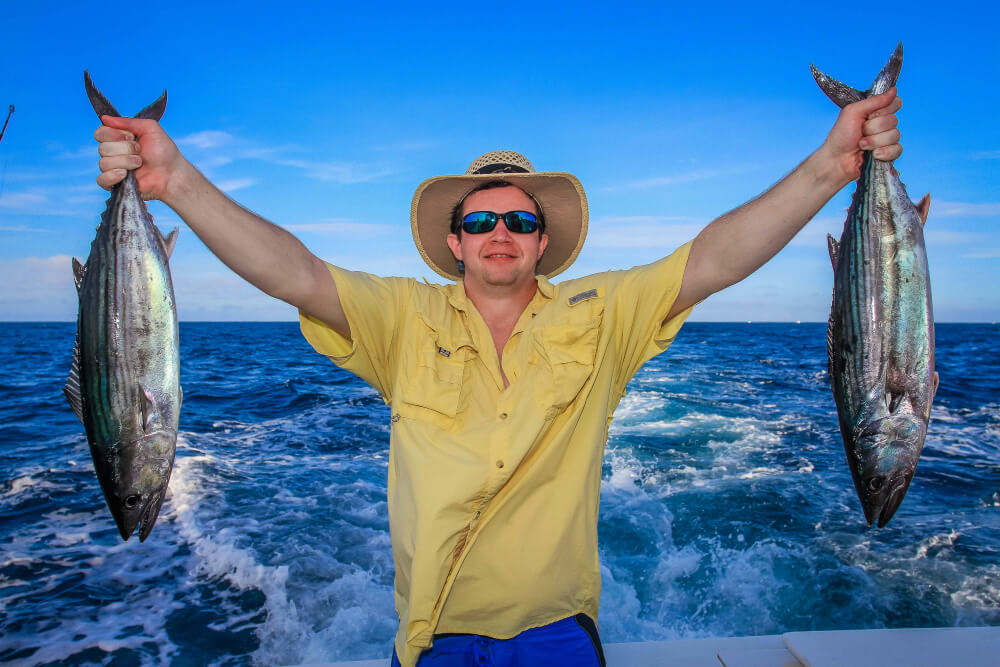 Called the Aquarium of the World, the Sea of Cortez all by itself, attracts 40% of the international marine life. The variety along with strict catch and release indications leads to wonderful fishing for first timers and professionals.
Many charter boat companies operate out of the marina at Cabo San Lucas, with great selections of boats.  Blue Sky Cabo (rated number 1 on Trip Advisor) has 5 incredible choices; Blue Marlin which is a 31 foot Intrepid Express, Blue Star a 32 foot Luhrs, Blue Water 35 foot Rivera, Blue Sky which is a nice 43 foot Riviera and the Blue Sea is magnificent 60 foot Bertram. You can easily talk to Jim online at cabosanlucasfishing.com about all your needs and requests. Jim is easy to work with and will do his best to make you trip the best of a lifetime. Also on the website you can chose a lovely Airbnb to top off your experience and look into the best airport transportation in the Cabo San Lucas area.
The best time for fishing is thought to be October, for offshore deep-sea fishing in Cabo San Lucas, Mexico. Several great fishing tournaments happen in October. The Bisbees is usually held the 2nd or 3rd weekend of October. First day for registration is Friday, normally team bags are handed out during this time while everyone is getting information and visiting. The actually fishing is a two-day event. If you are just a fan, you can watch the event from the Baja Cantina Beach Club on Medano Beach. Normally the prime targets are the black and blue marlin and are predominant in Cabo San Lucas and along the Baja Peninsula during the month of October.
Even though the black and blue marlin are the best targets for the Bisbees Tournament, the striped marlin is also plentiful in Cabo San Lucas waters and along the Baja Peninsula during October.
Reviews are excellent for Blue Sky Cabo Fishing:
"200 Pound Striped Marlin!! Fantastic boat and crew!"
"This trip was first class all the way from the crew to the fishing- the morning started with coffee and fresh fruit prepared and served by the crew. Great music equipment, ice-cold beverages and lunch was provided! Fishing was great !! The captain was amazing! Once in a lifetime experience and yes we caught a trophy fish"!
"BEST FISHING EVER!"
"To say that my experience on Blue Sky was a mindblower would be an understatement! I have Big Game fished in many parts of the world and this was by far the best experience. I spent three days on the boat with Captain Juan, and mates Julio and Mario. I believe that many of the fishing charter companies treat charters with a little disinterest, NOT THESE GUYS! These guys love what they do and it shows. I have never been with a crew, that when the number of strikes started to taper off on our second day they completely changed their method. Captain Juan is not happy with a mediocre experience, this guy is more of a Hunter than a fisherman. He aggressively changed tactics depending on what was going on around us and we were successful every time. Our catch included Striped Marlins, Dorado, Tuna and the ever elusive Barracuda. I landed my first Marlin on a fly rod!!! You haven't caught a Big Game fish until it's on a fly rod. The photography by the crew is also top drawer. The pictures they provided were unreal, I wish I could post them all here to share. They also shot numerous underwater shots with a GoPro. The hospitality shown by the whole crew was very much appreciated. I shared fishing stories and pictures from our exploits in Canada. There was lots of cold beverages and great lunches each day. The boat was very clean and pride of the crew in their "office" is very apparent. I am already making plans to get back their in the next couple of months. I highly recommend this experience to my fellow fisherman. As an aside, I was invited by the crew to take part of a sunset pleasure cruise that they run on Thursday evenings (if memory serves me right). I think Blue Sky does this at no charge to promote their boat. Sadly my week had come to an end and I left that afternoon. If you're in Cabo check it out, be a good opportunity to see the boat and meet the crew".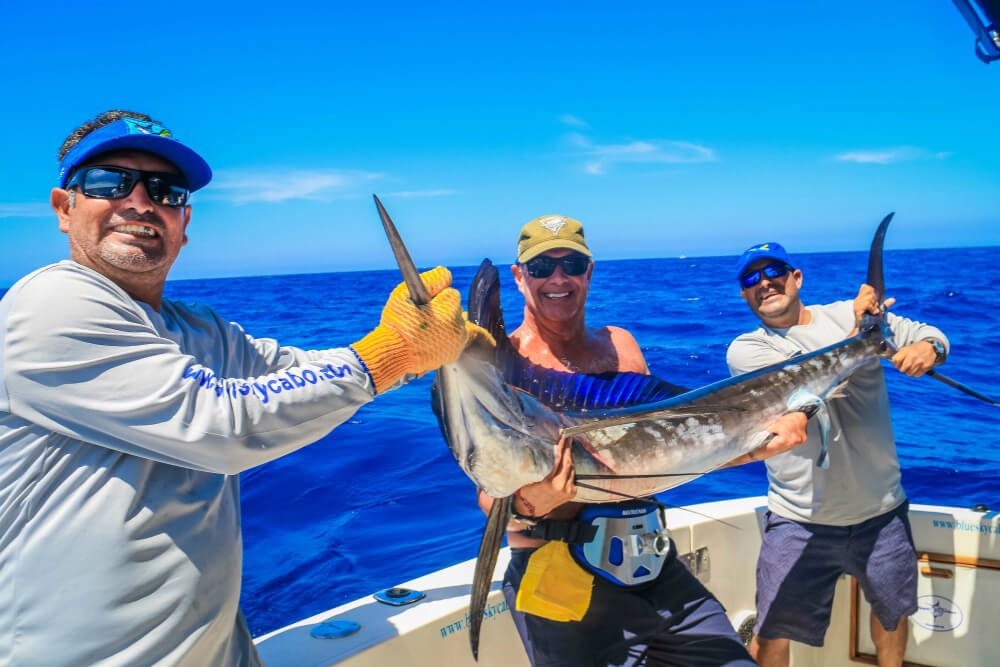 As you can see, fishing in Cabo San Lucas is over the top amazing! Along with the crew of Blue Sky Cabo, who will put your wishes into action. With all their expert experience and determination everyone will have a fishing charter of a lifetime. Check it out!
Written by,
CBHINE
Make a lifetime memory with Cabo San Lucas Fishing!…
Contact Us for full information & everything!