Lovers Beach, Arch Tour and Medano Beach!!
Beautiful Cabo San Lucas is located on the Baja Peninsula and is a beautiful destination that presents a perfect mixture of great weather and stunning scenery.  Cabo San Lucas and San Jose Del Cabo are situated on the tip of the 800-mile long Baja California Peninsula, with the Sea of Cortez on one coast and the Pacific Ocean on the other.
Cabo San Lucas has all you need for a tranquil vacation. Deep-sea fishing is in full swing with several tournaments coming up. Starting June 6-8 is the Annual Pelagic Triple Crown Fishing Tournament.  Lots of big money for the winning catches! Most of the tournaments are centered near the Los Cabos city and the less populated area of the East Cape. The Cabo Summer Slam, otherwise known as Pelagic Triple Crown of Fishing is very popular. This Newport Beach, California Company is a big leader in sporting apparel and that works well with watersports, such as boating, diving, fishing and surfing. This year over  $200,000 is projected to be on the line for the 6th annual tournament in June. The next biggest tournament in Cabo San Lucas will be in October. Last year the winning team won by catching 25 marlin over two days of competition!
June 27-30 is the 23rd Annual Stars and Stripes Golf and Fishing Tournament. This fishing tournament has raised over 26 million dollars for youth charities. This tournament is more than a charity benefit.  Contestants stay at the beautiful Hilton Los Cabos and fish for dorado, wahoo, tuna, swordfish and marlin. Plus, enjoying the evening activities and live entertainment.
Watching the waves crashing against El Arco De Cabo San Lucas, or as locals say "Lands End" which is an arched rock formation on the southern tip of the Baja Peninsula.  Formed by the wearing away over the years, the rock creates as a meeting place for many sea lions that play and entertain.  The large creatures are fun to watch and photograph as they jump, swim and sit on the rocks. With the strong currents, don't be tempted to jump into the water, it can be very dangerous for swimming. A good way to go out to El Arco is by booking with Blue Sky Cabo's Wednesday night sunset cruise. Check the website for details.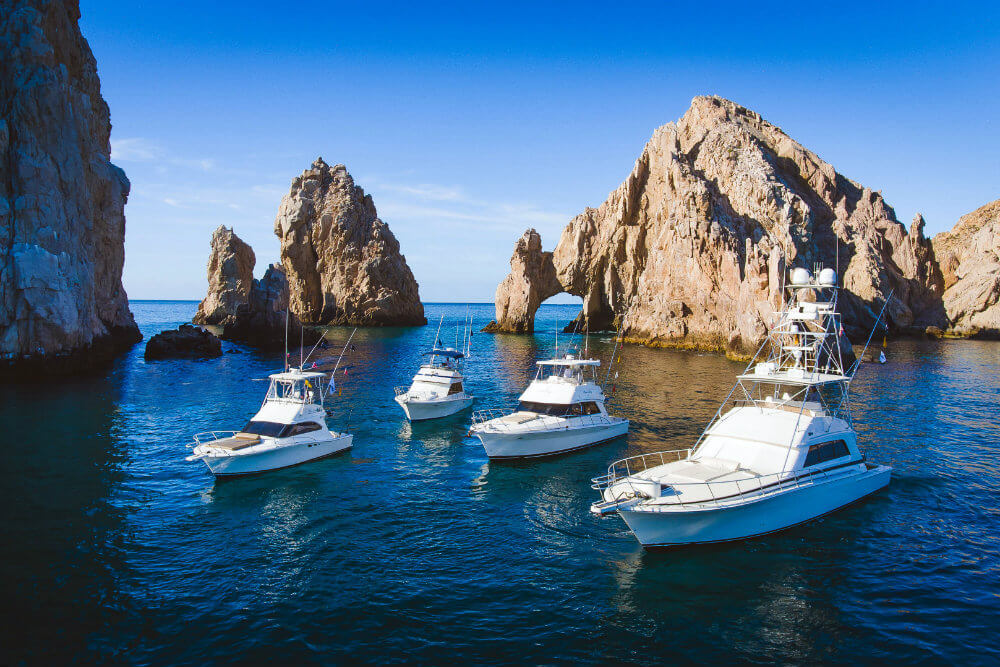 Blue Sky offers snorkeling trips to Pelican Rock and El Arco, which are both very close to the Cabo Marina and are part of the beautiful Lands End rock formations in the Cabo San Lucas Marine Reserve.  In these waters, you will see plenty of marine life to include sea turtles, surgeonfish, parrotfish, angelfish, rays and sea lions.  Blue Sky Cabo also offers snorkeling trips to Santa Maria Beach and Chileno Bay, which are located north of Cabo San Lucas and are favorite snorkeling areas with the locals known for the great rock formations and abundance of marine life.
Another must do and see is Medano Beach in Cabo San Lucas. Medano Beach is overlooking the Cabo San Lucas Bay, which is near the Cabo San Lucas marina. The beach is about 2 miles long with beautiful sand and tons of activity!  It seems to be the most frequently visited beach in the area.  From this beach, you can see the beautiful rock formations of Land's End where the Pacific Ocean and the Sea of Cortez meet. There are a host of activities including parasailing, kayaking, jet skiing, wonderful hotels and restaurants.
You will also see many vendors selling goods such as bottled waters, jewelry and many other clothing items.  Medano Beach is very popular for the young, hosting clubs, cantinas and luxurious resorts.   ME Cabo is a cool and popular resort with the LA Hollywood jet setters. The Nikki Beach Club and the hot Passion nightclub keep things shaken. Poolside DJ's will be playing good tunes while you layback and relax in the fabulous Cabo sun!
Check out the Bahia Hotel, which is one of my favorites. It sets a block or two off the beach but has a real cool boutique style. The hotel rooms are very appealing, making it seem cozy and easy on the eye. Prices are affordable which is always a plus.
If you are traveling with family, check out the Villa de Palmer, which offers comfy suites, great location and lots of amenities. A big plus is the whale shaped water slide, kids love it! Nightly entertainment is popular!
For style and affordability, check out the Cabo Villas Beach Resort. Consider their award winning restaurant Edith's.  Reviews are very good! This hotel provides wonderful views and super penthouse suites, some say the best in Cabo.
The beautiful and lovely Casa Dorado Beach Resort has a super beachfront setting, great service and views that will make you wish you lived there full time! Take time to relax with cool refreshments and watch the cruise ships and charter fishing boats coming into port. I have been told their spa is to die for with body treatments and massages. What a way to start and end the day!
Dining, Nightlife and Activities on Medano Beach Cabo
Step into the Baja Cantina! Sitting on the beach, this favorite restaurant offers relaxing lounge chairs and is more laid back than some of the other restaurants. Call and check their theme for the night, which is so fun and dressing up for the occasion, enhances the experience. You will enjoy dining with your toes in the sand too.
Baja Brewing Company is a hit and is in the Cabo Villas Beach Resort. I love rooftop dining and you will not be disappointed with the beauty of the bay. If you like beer, then you will be pleased to try the locally brewed beers. I love their wood fired pizza!!  Topping off the evening is live music, you won't want to leave.
The Office is a must see and do!!!! This establishment has been going strong since 1970's and is one of the MOST popular stops. Food is great and drinks are divine!
Some of the tables are on the sand, lots of activities going on at the Office.  I enjoyed the people watching immensely!
Tabasco Beach Restaurant & Bar doesn't get as much attention as some of the other big names but is one of the best places to just hang out on the sun deck or sitting in a chase lounge on the beach. Great views and the people watching is insane!
If you are into a bit of shenanigans, then check out the Mango Deck! It's a wild and crazy place for sure! Endless tequila shots and hangover specials! Plus a great menu and food is good.  P-A-R-T-A-Y!!!!
Another super fun thing to do is take the water taxi over to Medano Beach. You can get one near the Cabo San Lucas Marina. On the way over it's fun to enjoy the views of Lovers Beach, Divorce Beach and Lands End. All great places to visit! If you like adventure, ask for a stop at the cliffs and do some jumping!  The water is just an incredible blue and with sea life all around.
Most of the fishing and sailing charter boats are located at the Marina; Playa el Medano is the best place for water activities and rentals. JT Water Sports has been around a while and has most anything you might want to rent; they have been in business two decades. If you are looking to do more air type sports check out Cabo Sky Tours, they can offer hang gliding flyovers for all the landmarks.
So what are you waiting for? Get your booty down to Cabo and have the time of your life!!
Written by,
CBHINE
Medano beach is a true traveling destination for young-minded tourist! Contact Us right now if you want to have crazy experience!