Awe to be swept away to Cabo San Lucas, Mexico makes for happy thoughts while enjoying deep sea fishing charters, water sports, the delicious food and as The Zac Brown Band says, got my toes in the water, ass in the sand not a worry in the world, a cold beer in my hand, life is good today! Life is good today in Cabo!
Heading down to Cabo San Lucas involves coming into contact with many of Baja's most beautiful beaches, high-end resorts and divine dining. These wonderful amenities will bring the most exhausted travelers back to life again. I am going to list just a few of the unbelievable resorts in the area, which are highly rated on Trip Advisor and that I have visited.
The Resort at Pedregal is over the top and is the number one rated resort, according to Trip Advisor in the Cabo San Lucas area.  The resort is located through Mexico's longest privately owned tunnel in the Pedregal community, with close walking distance of the marina and downtown area.  It is on the Pacific Ocean just northwest of the marina. The resort is incredibly beautiful.
Here are some reviews from Trip Advisor regarding Pedregal:
"The Resort at Pedregal (rated #1) is a wonderful resort with 5 star service, beautiful grounds, pool and restaurant. They treated us so well, we didn't want to leave! Our room was amazing and had a little pool off the deck. Every day at 4:00 they would bring us complimentary freshly made guacamole, chips and Coronas. The two restaurants on the property were exceptional. The pool and beach area felt so private and secluded. We will be back"!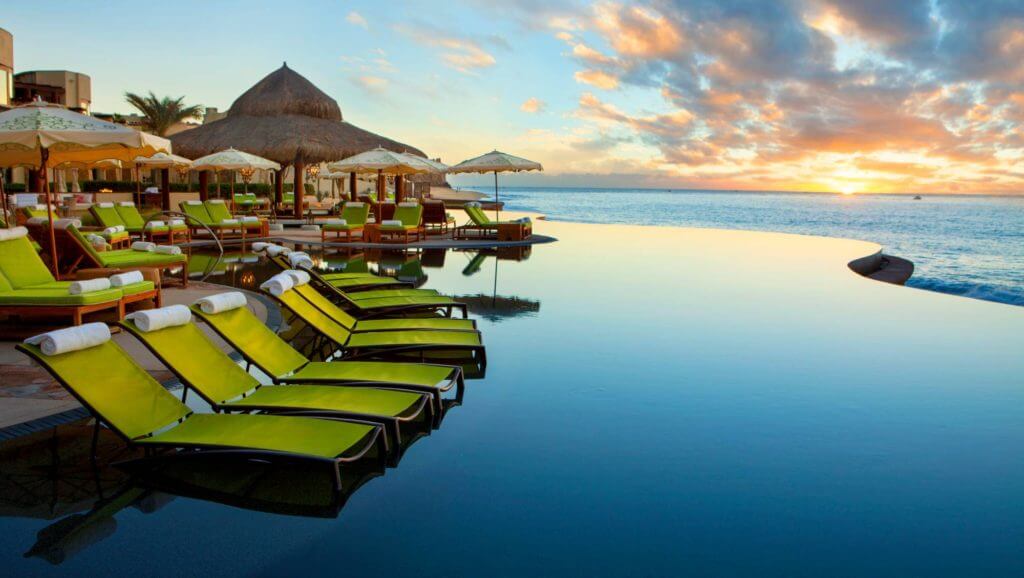 "The Resort at Pedregal is amazing. It's the best beach hotel experience I've ever had. The property is beautiful, the food was great. I love the private plunge pool. The whole place blew my mind. I wish I could afford to go every year".
"This place was perfect from the moment they picked us up at the airport until they dropped us off. We arranged for the hotel to pick us up, and the driver and car was a perfect way to get to this amazing resort. The whole staff was great and the room was beautiful. Private plunge pool, coronas and guacamole every day and even a complimentary bottle of tequila. The food was great at all of the restaurants. We had plans to leave at night and explore the town, but never ended up leaving because we loved the food so much. El Farallon is located cliffside with amazing views and great food. Don Manuels was just simply amazing for all meals of the day. And a great place to have a drink and listen to live music after dinner. The grounds and pool were perfect. The spa is first class and well worth the price. The concierge went out of their way to meet our every request and Aaron was so helpful making our trip and anniversary perfect. Thanks again to everyone and we will definitely be back one day".
"The Resort at Pedregal was the ideal place to celebrate our honeymoon. The resort is intimate and low-key, which is exactly what we needed to unwind after our wedding. Everything about the resort was perfect — the food (El Farallon is a must), the amenities (the grounds and rooms with a plunge pool in each room were amazing) and the service, which is unmatched. The employees are the nicest people we've ever met in our lives & it was a point of pride that we chose to celebrate our honeymoon at their resort. We were equally proud to share in their culture and traditions. We will certainly be back".
Esperanza (rated #2)
Overlooking the Sea of Cortez, Esperanza presents a beautiful setting on 17 swanky acres. The resort is designed for guests seeking a private vacation retreat with all the comforts of home.
Reviews are listed below:
"This was our first time at Cabo and glad we chose Esperanza. The resort was beyond what we expected from online pics . Experiencing it in person was amazing. Joel – our concierge really made the Esperanza experience world class".
Room: 5 stars
"We booked the ocean view deluxe villa 2 bedrooms. Room was beautiful Mexican influenced interior but upscale modern feel. Unbelievable panoramic views of the ocean from our villa. Very spacious. There was a welcome fruit basket and homemade cookies setup for us when we arrived. Kids loved it and set the right tone for our vacation. Attentive housekeeping..refrigerator was always promptly filled with Pellegrino and other drinks everyday. Indoor washer and dryer a plus. Bath salts by the Jacuzzi. Really liked the small cultural artisan figures we got every night on our bed ..It's the attention to little details that makes this place special".
Service: 5 stars
"Our personal concierge was Joel. He really set the bar high for hospitality and service. Probably the best service I've witnessed in my travels – so, I have to give him special recognition here with high marks. We booked so many activities during our stay but didn't have to worry because Joel handled it all. He gave us great advice on restaurants, places to explore in Cabo and also money saving tips. If you want world-class service – ask for Joel"!
Restaurants: 5 star
"Every meal we had at the resort was top notch. Recommend evening sunset view at Cocina del Mar. Meals leveraged colorful ingredients from local farmers. We really enjoyed front row seating next to the ocean every morning for breakfast at the Palapas…great way to start the day".
Gym: 4 stars
"Gym had all the modern cardio equipment, weight sets, and isolation machines. It was not crowded when we went. My wife and I took an excellent TRX class in the yoga studio. Challenging, but the instructor kept the workout energizing and fun. Nice touch with the cucumber and berry infused waters. Wife had relaxing time at spa: steam room, massage and papaya exfoliation".
Room Tip: Get a villa with ocean view…its well worth the money.
"Esperanza has become something we look forward to as a family year after year. A beautiful property with great service that goes above and beyond. We have never been disappointed at Esperanza, from the incredible views and beautiful rooms, to the friendly hotel and pool staff, and not to mention the variety of dining choices available. Every detail is attended to, every trip exceeding the last. Can't wait to "come home" again next year".
Esperanza is located on the Baja Peninsula, four miles out of the town of Cabo San Lucas and 30 minutes from the SJD airport..
Chileno Bay Resort (rated #3)
Chileno Bay Resort is located on the Baja Peninsula, 9 miles outside of Cabo San Lucas, and 30 minutes from the SJD Airport.
Reviews are listed below:
"Chileno Bay Resort has been on my to-do list and Instagram feed since construction began, and we finally had a chance to experience Chileno firsthand. Chileno Bay Resort exceeded our expectations from start to finish".
"The pristine and well-manicured highway exit is the first sign of what is to come. Situated on the Sea of Cortez boasting access to one of only 7 or so swimmable beaches in all of Los Cabos, Chileno Bay Resort is a laid back, perfect version of boutique luxury".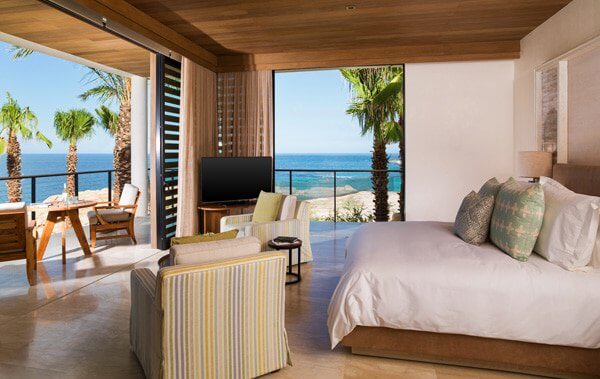 "True to Auberge standards, no request is out of reach, absolutely every staff member is beyond polite and gracious, and small touches such as eye glass cleaner, jelly beans, tequila shots on a floating pool bar, popsicles of local fruit flavors, and aloe ice cubes are common here but no where else"!
"The villas are wonderfully equipped in a luxurious spa feel with modern touches and classic Mexican décor".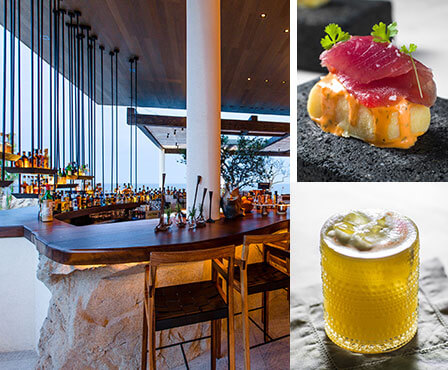 "Every spot of the resort is well planned, purposeful and gorgeous. The pool has ample room for guests, cabanas offer cool shade and enviable amenities including a private massage, the restaurants offer some of the best food in Cabo, the teen club has pool tables, ping pong and a recording studio; and the private golf course comfort station is better stocked than Willie Wonka's Chocolate Factory".
Grand Solmar at Lands End Resort and Spa (rated #4)
Grand Solmar is located at Avenida Solmar #1 A Col Centro Cabo San Lucas, BCS 23450.
Reviews listed below:
"We first stayed in a Presidential suite in 2015 and had a wonderful time. So much so that we went back 2016 for our daughter's high school graduation. Both experiences were wonderful. The resort is walking distance to the harbor and tourist spots. But when you are at the resort it feels like the town is a million miles away".
"The employees work hard to keep the grounds and the rooms clean. They are very friendly and say "hi" to everyone. The food is first class in the various restaurants. If you go to Cabo, this is one of the best places to stay".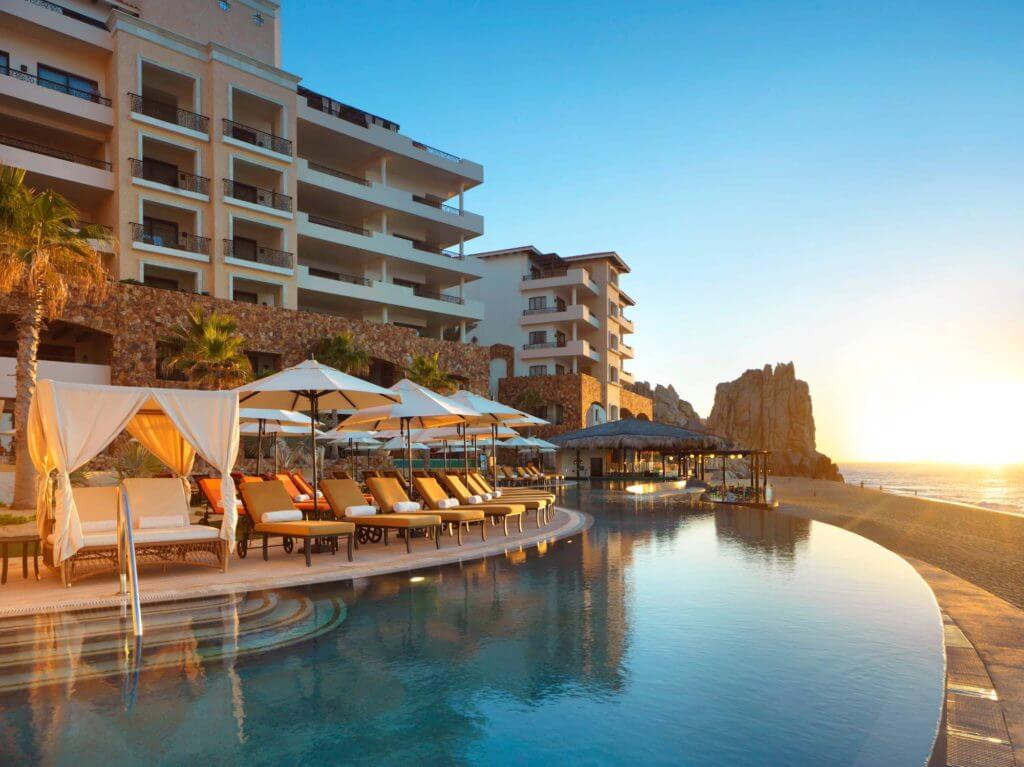 "Land's End completely exceeded all our expectations. The property is immaculate, the rooms are huge and well-kept, the infinity pools could not be better, the food was excellent and there were a lot of options, the service around the resort was terrific…I could go on and on".
Casa Bella Boutique Hotel (rated #5)
Reviews listed below:
"I spent 4 nights recently, and I have to say my room was impeccable, comfortable and quite. I loved that it was centrally located hence I was able to walk to restaurants, the marina and the tons of shops that line the marina. As for the restaurants nearby, there are restaurants for any budget. That said, I was able to book a tour to see the natural rock formation at lands end "el arco" and all I had to do is walk down to the marina a five minute walk. Also I went to visit the swim with the dolphin exhibit, which is a 7-minute walk from the hotel's front door.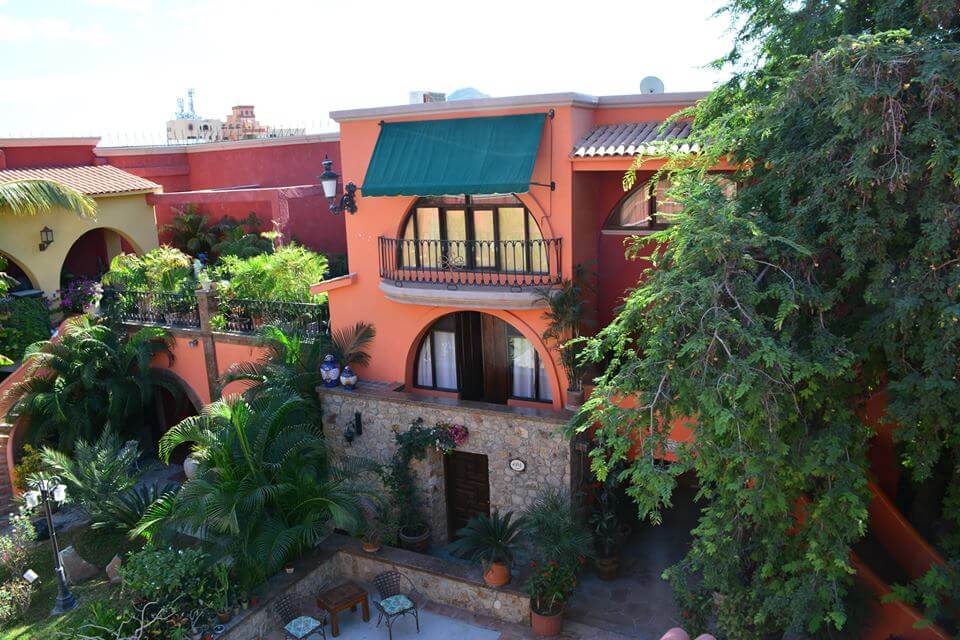 The staff was really nice and they certainly went out of their way to make me feel welcome !!! They made sure I lacked nothing during my stay. I would certainly recommend this to my family and friends. I will definitely be back".
"This was one of the nicest hotels we have stayed at in Mexico. Great rooms with beautiful furnishings, wonderful location in the heart of everything. Walking distance to all the big clubs and the best restaurants. A short couple of blocks to the marina.
The people here were super helpful and go way beyond what is expected. Barbara, the owner is a delight and will tell you the wonderful history that turned her family home into this hotel.
If you are visiting Cabo, don't miss it".
Located at: Hidaldo #10, Colonia Centro, In Front of Plaza Amelia Wilkes, Cabo San Lucas 23410, México
Best Value:
Pueblo Bonito Sunset Beach Golf and Spa Resort
According to Trip Advisor Pueblo Bonito Sunset Beach Golf and Spa Resort is the best value overall.
Reviews listed below:
"Best place to stay so much fun so many different things to do so many pool spots and beach spots. The view is amazing no other place I'd like to go for vacation! Thank you Daniel and Flor"!
"Nice hotel, nice view. Nice staff the food is good it's an amazing resort! We saw the activities team working!! Jesus and Luis were doing the water aerobics amazing by the way! Also flor and dany socialize very well! Love it".
"Jaime and Marco warmly greeted us at check in. They were great with informing us of what is on property and the activities we could join in. The property is absolutely beautiful! Very clean and well kept. Everyone we have come in contact with is friendly and helpful. Will definitely be back"!
With  so many choices, there is really no way to go wrong when selecting a resort in Cabo San Lucas. Book your trip, get out on the water with a deep-sea fishing charter with Blue Sky Cabo, and have a great time.  Cheers!
Written by,
CBHINE
Relax on Cabo beach resort….. Contact Us for details!